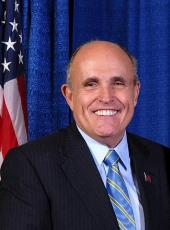 Press Release - Former Florida Governor Endorses Rudy Giuliani for President
The Rudy Giuliani Presidential Committee announced today that former Florida Governor Bob Martinez has endorsed Mayor Rudy Giuliani for President.
Governor Martinez's career in public service spans more than 40 years, including serving as Mayor of Tampa, Florida and Drug Czar under President George H.W. Bush.
"I am proud to support Mayor Giuliani because he has a proven record of results as Mayor of New York City," said Governor Martinez. "America is at a critical juncture and we need real leadership in Washington. Mayor Giuliani's proven record of accomplishment and his 12 Commitments to the American People will be a roadmap for his Presidency."
"Governor Martinez's strong commitment to public service is well-respected among Floridians," said Giuliani's Florida Campaign Chairman and State Attorney General Bill McCollum. "He understands well the challenges America faces because of his experience in government at the local, state and federal levels, and the need for a leader like Rudy. We appreciate his support for the Mayor."
About Governor Bob Martinez:
Governor Martinez was the first Florida Governor of Hispanic descent, having served from 1987 to 1991. Martinez went on to serve as President George H.W. Bush's Drug Czar, a Cabinet-level position, from 1991 to 1993. He was Mayor of the City of Tampa from 1979 to 1986.
Martinez is currently Senior Policy Advisor with Holland & Knight LLP. He serves as Trustee Emeritus of the University of Tampa, Director of the Hillsborough Education Foundation, Honorary Member of the Florida Council of 100, Honorary Director of the Florida Council on Economic Education, and Director of the Greater Tampa Chamber of Commerce.
A native of Tampa, Martinez earned his B.S. in Education from the University of Tampa and received his master's degree from the University of Illinois.
Rudy Giuliani, Press Release - Former Florida Governor Endorses Rudy Giuliani for President Online by Gerhard Peters and John T. Woolley, The American Presidency Project https://www.presidency.ucsb.edu/node/294711