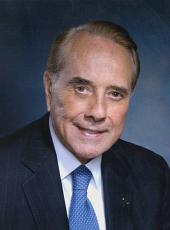 Press Release - Forbes' Free Ride Must End
Dole Campaign Manager Calls on Forbes to "Come Clean" with American Public
The Dole for President campaign today issued a challenge to presidential candidate Steve Forbes to stop giving his trademark generic, repetitious non-answers and come clean with the American public.
"For months, Steve Forbes has responded to nearly every quest:ion with pre-programmed responses about 'hope, growth, and opportunity' and 'getting American moving again,"' said National Campaign Manager Scott Reed. "With his robot-like precision, he has set a new standard for political obfuscation, avoidance, and repetition, but it's time for his free ride to end. Steve Forbes must be held to the same level of scrutiny as every other political candidate, and that means giving straight answers to tough questions."
The campaign also released five questions that Forbes has refused to answer directly;
1. You claim your flat tax will benefit all Americans, vet Iowa State University economist Neil Harl predicts that your tax plan would cost farmers $ 2,400 to $ 4,400 a year by eliminating deductions for property taxes and interest payments. Applied Economic Research, a New Hampshire economic firm, estimates that a typical middle-income family in New Hampshire would lose $ 1,500 to $ 2,000 per year under your plan. Will voters support a plan that raises their taxes and disproportionately benefits the wealthy?
2. According to Fortune magazine, you only paid $ 2,215 in property taxes on 449 acres of land around your New Jersey estate that is valued at $ 8.98 million because of a tax loophole that lets you claim to be a farmer by raising expensive "show cows" on the land. Do you think it's fair that you pay the same property tax on your multi- million dollar estate as a typical middle-class family pays on their small home?
3. You told Larry King that despite the fact that you are "loaning" rather than giving your campaign millions of dollars, you do not plan to repay yourself the money. Your campaign manager, however, told Time magazine that. "I'm sure Forbes would do it, pay himself back," If you're not going to pay yourself back, why not just give the money to the campaign?
4. You told Newsweek magazine that "spending was reduced" during your tenure as the Chairman of the Board for International Broadcasting. But in fact, during the eight years you ran the operation, spending doubled from $ 108 million in 1985 to $ 218 million in 1993. Why did you hide the truth from Newsweek?
5. You have promised to out government waste as President, yet in your one government job, you squandered $ 250,000 on Afghan rugs and brass lanterns to redecorate a crony's European apartments and gave, a $ 500,000 golden parachute to a hand-picked top executive. Why did you authorize that wasteful spending?
Robert Dole, Press Release - Forbes' Free Ride Must End Online by Gerhard Peters and John T. Woolley, The American Presidency Project https://www.presidency.ucsb.edu/node/315581