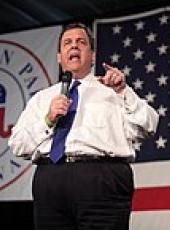 Press Release - Following A Strong Debate Performance, 10 Key New Hampshire Elected Officials and GOP Leaders Endorse Chris Christie for President
For Immediate Release:

Wednesday, November 11, 2015
MORRISTOWN, NJ - Following Governor Christie's strong performance in the fourth Republican Presidential debate, ten additional key New Hampshire elected officials and Republican leaders endorsed his campaign, providing additional momentum in the first in the nation primary state. These endorsements come less than a week after public polling showed Governor Christie quadrupling his support in the Granite State.
Merrimack County Attorney Scott Murray said, "Governor Christie has earned the respect and vote of those in law enforcement. He will bring a new approach to how we treat drug addiction and by energizing Federal drug enforcement policy, will ensure that 'justice' is more than just a word, but a way of life."
State Representative Jim Grenier stated, "After thoughtful consideration, I am supporting Governor Christie because of his character and his ability to be a successful leader of our country." Grenier continued, "After meeting him and his wife Mary Pat, I am sure Governor Christie is 'one of us' and will stand up for all citizens. Unlike politicians in Washington, DC, Governor Christie has the record of being able to bring folks together to get things done."
Bedford Town Council Vice Chair Kelleigh Murphy, a former state representative and Manchester Alderman who also served as press secretary for former US Senator Bob Smith commented, "From a 19 trillion dollar debt to the scourge of drug addiction tearing apart communities, our country is facing monumental problems. Governor Christie has the courage to address the most pressing issues affecting our nation and his candor is exactly what we need in these difficult times. I support Governor Christie for President because he will be the strong leader who can restore America to prosperity and provide a nation of opportunity for future generations."
New Hampshire Community Leaders Announcing their Endorsement of Governor Christie:
Merrimack County Attorney Scott Murray
State Representative & Sullivan County GOP Vice Chairman Jim Grenier (Lempster)
Town Council Chairman Jim Scanlon (Bedford)
Town Council Vice Chair Kelleigh Murphy, former State Representative & Manchester Alderman, former press secretary to US Senator Bob Smith (Bedford)
GOP Activist and Army Veteran Kent Swanson (Nashua)
GOP Activist Donna Swanson (Nashua)
Air Force Veteran John Gaites (Thornton)
GOP Activist Maureen Gaites (Thornton)
Community Leader Tammy Fortier (Woodsville)
US Army Veteran Stephen A. Mack (Bedford)
These elected officials and community leaders join the growing list of New Hampshire Republican leaders supporting Chris Christie for President including: Former Republican Gubernatorial Candidate and former CEO of BAE Systems Walt Havenstein, Former Representative & Former New Hampshire Jaycees President Ken Hawkins, U.S. Air Force Veteran Gary Schmitz, GOP Activist Barbara Schmitz, Secretary of the Merrimack Republican Town Committee and Former Romney Town Chair David Rutzke, GOP Activist Steve Miller, GOP Activist Thomas Mullins, Community Activist Kate Fallas, Community Activists Tom & Laura Walstad, St. Anselm College Republican Madison Mangels, Rockingham County Treasurer Edward "Sandy" Buck, State Representative Russell Dumais, State Representative Herb Richardson, Former State Representative and Vietnam War Veteran (USMC) John Cebrowski, Selectman Mary Grenier, Community leader Kendra Tilton, GOP Activist Carroll Ray, GOP Activist Rita Richardson, GOP Activist Noel Lyons-Baker, GOP Activists Bob & Marie Raas, Small Business Owner Nancy Cowan, Hillsborough County Commissioner Toni Pappas, GOP Activist Steven Steiner, North Conway, Navy Veteran Craig Fillmann, Glen, State Rep. Candidate and former member of "Students for Walker," Alexandria Knox, Manchester, GOP Activist & College Republican Parker Leonard, Auburn, College Republicans Secretary at Saint Anselm Cameron Lapine, Manchester, Steve Woods, Brentwood,Claire Stevens, Hudson, Kirsten Yellen, Manchester, John Gallagher, Manchester, Bill and Carol Gaffney, Nashua, Maria Sampson, Londonderry, William Stearns, Jr., Bedford, Doug Meteisis, Plaistow, Heidi Sturrock, Amherst David Sturrock, Amherst Paige Youschak, Laconia, Matt Withrow, Salem, U.S. Marine Corps, Lance Corporal Tom Eifler, Atkinson, Kevin Harrington Student Ambassador & College Republican Rachel Morel, Saint Anselm College, Manchester, Town Councilor Joe Green, Londonderry, Trustee of the Trust Funds Colin Costine, Chester, GOP Activist Simone Maloney, Manchester, U.S. Navy Veteran Jim Powers, Merrimack, U.S. Army Veteran Jane Powers, Merrimack, GOP Activist Stacy King, Manchester, GOP Activist Mike Mackley, Manchester, Small Business Owner Dale Dormody, Gilford, GOP Activist Noreen Johnson, Swanzey, GOP Activist Catherine Seltsam, Merrimack, Small Business Owner Paul Botta, New Boston, College Republican Vice Chair Brandon Pratt, St. Anselm College, Assistant Majority Leader Representative Steve Schmidt, former Mayor of Somersworth Matt Spencer, former New Hampshire Republican State Committee Chairman Wayne MacDonald, former Executive Councilor and Nashua Mayor Bernie Streeter, former US Attorney and Executive Councilor Tom Colantuono, Merrimack County Sheriff Scott Hilliard, Concord City Mayor Pro Tem and former Executive Councilor Dan St. Hilaire, Rockingham County Commissioner Tom Tombarello, Rockingham County Commissioner Kevin Coyle, business leader Dick Anagnost, business leader Bill Greiner, State Representative David Danielson, State Representative Susan Emerson, State Representative Bill Ohm, State Representative Don LeBrun, State Representative Betsy McKinney, State Representative Jack Balcom, State Representative Jim Devine, former Employment Security Commissioner Richard Brothers, former New Hampshire Republican Party Treasurer Robert Scott, former Grafton County Republican Committee Chairman Paul Simard, former State Representative Elaine Swinford, former State Representative Dennis Reed, former State Representative Karen Hutchinson, former Meredith Selectman and Conservative activist Hillary Seeger, former Contoocook Valley Republican Vice Chairman and Conservative activist Donna Marzullo, Nashua Republican Party activists Paul and Barbara Clark, Concord Republican Party activist Valery Mitchell, Concord Republican Party Treasurer Jim McConaha, Salem Republican Party Secretary Lisa Withrow.
Chris Christie, Press Release - Following A Strong Debate Performance, 10 Key New Hampshire Elected Officials and GOP Leaders Endorse Chris Christie for President Online by Gerhard Peters and John T. Woolley, The American Presidency Project https://www.presidency.ucsb.edu/node/311520