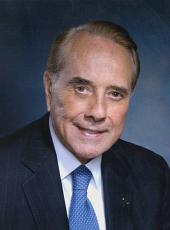 Press Release - Follow the Money
Dole/Kemp '96 Campaign Manager Scott Reed released the following statement today:
"Mr. President, your first campaign experience was working for George McGovern in 1972, Did you learn nothing from the tragic lessons of Watergate?
"Every day, new revelations in the Indogate scandal weave a lighter web around you and your administration. Some of your party's biggest con tributors appear to have been Indonesian billionaires, South Korean companies, parishioners at Buddist temples, Gandhi namesakes, and foreign gardeners with green cards. The questions that keep coming up are the same, Where did the money come from? How was it funneled to your campaign coffers? What did it buy?
"It's time to stop laundering foreign money and come clean with the American people.
"Here are four more questions that would help clarify the influence that foreign money has had on the policies of your administration:"
1. When did the $450,000 from Arief Wiriandinata arrive at the DNC? Was the postmark on the envelope from Arlington, Virginia or Jakarta, Indonesia? Did the envelope have a 32 cent stamp or a foreign airmail stamp bought with rupiah?
2. Where in the world is Arief Wiriandinata? Where is South Korean businessman -- and illegal DNC contributor -- John Lee? What steps is the DNC taking to track down Wiriandinata and return his illegal contributions?
3. Is it official DNC policy to funnel thousands of dollars in illegal contributions through members of religious institutions who have taken vows of poverty? Does the DNC plan to hold fundraisers at any other religious institutions to use their parishioners as a front to hide illegal contributions?
4. DNC vice-chairman John Huang has apparently funneled millions of dollars in potentiallyillegal contributions from questionable sources ranging from Indonesian gardener Arief Wiriandinata to San Francisco scam artist Yogesh Gandhi and South Korean companies. Why has the DNC yet to distance itself from Huang and his fundraising tactics?
STILL-UNANSWERED QUESTIONS
1. Was the $425,000 in foreign contributions to the DNC illegally laundered through the Indonesian g@oner, Arief Wiriandinata? "The Knight Ridder news service reported that one of the largest contributions this year, $425,000, came from Arief Wiriandinata, an Indonesian who lived briefly in Virginia and whose father-in-law was a senior executive who worked for the Riadys." New York Times, 10/10/96 "Arief Wiriandinata is a landscape architect, and the couple lived in a modest townhouse in Virginia." Washington Post, 10/12/96
2. What special access to the President did foreign contributors get? "On at least 3 5 separate occasions, the DNC arranged for big money donors from key states to join Clinton for 90- minute "coffees" in the White House residence. One guest earlier this year was Arief Wiriandinata, Ning's son-in-law, who along with his wife donated the now-controversial $425,000." Newsweek, 10/21/96
3. Why have you used U.S. foreign policy in Indonesia as a fundraising tool to help secure illegal campaign contributions from foreigners? "With the Clinton's election to the Presidency in 1992, the Indonesian billionaire Riadys and their business associates have become more politically active, from soliciting campaign contributions to influencing trade policy and conducting quiet diplomacy. ... Last month, in response to questions from the Los Angeles Times, the Democratic Party returned an unlawful $250,000 contribution that had been solicited from a South Korean company by the former American head of the Riady's business operations, John Huang." New York Times, 10/10/96
4. Did you turn a blind eye to human rights violations in East Timor in exchange for hundreds of thousands of dollars in illegal campaign contributions from foreign nationals? "Out of the limelight, Mr. Riady has become a player in Asian-American relations, holding discussions with Clinton about United States relations with China and Indonesia, American and Asian officials say. The officials also say he has acted as a back-channel between the State Department and President Subarto of Indonesia on East Timor, a former Portuguese colony that Indonesia now controls and where human rights questions have been raised." New York Times, 10/10/96
5. Didn't it raise suspicions that 2 gardener with a green card - a foreign national with tits to the brutal Indonesian dictatorship - donated $425,000 to the Democratic National Committee's soft-money operation? "Why did an Indonesian gardener with a green card, related to a Lippo partner, pass along $425,000 and then race home, avoiding inquiries?" William Safire, New York Times, 10/14/96
6. How do you justify selling top-level White House access to wealthy foreign nationals from military dictatorships like Indonesia? "Over time, Radonesian billionaire Mochtarl Riady became pals with the future President. He was an invited guest at Clinton's inauguration and his son, James, got a plum seat at the table a key economic summit convened after Clinton's election. Riady and his clan showed their thanks the old-fashioned way -- they filled Clinton's campaign coffers." New York Post, 10/14/96
7. Was it a lapse in your CIA briefing or a lapse of ethics that allowed you to meet with Indonesian billionaire Mochtar Riady, a foreign national with close ties to the military junta that has slaughtered hundreds of thousands in East Timor "Clinton met with Riady and Huang when he visited Indonesia in November 1994, Clinton aides acknowledged this week." New York Post, 10/14/96
Robert Dole, Press Release - Follow the Money Online by Gerhard Peters and John T. Woolley, The American Presidency Project https://www.presidency.ucsb.edu/node/315758