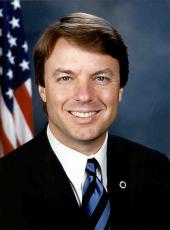 Press Release - On Final Day Of "Road To One America" Tour, Edwards Unveils Initiatives To Strengthen Families
Wise, Virginia – On the final day of the "Road to One America" tour to shine a bright spotlight on the issue of poverty, Senator John Edwards announced a plan to strengthen low-income families with proposals for family literacy and nurse home visits. The new initiatives build on his plans to strengthen families by discouraging teen pregnancy, cutting the tax penalty on marriage that still hits too many low-income families and expecting young men to take responsibility for their children while making it easier for them to support them.
"We can't end poverty in this country without a commitment to—and a commitment from—strong families," said Edwards. "Families are where we learn our values and get strength to succeed in the world. In communities across America, families aren't getting the support they need. We need to strengthen families and communities, so we can create One America where healthy families and communities realize their fullest potential."
Edwards believes that government alone cannot end poverty—families and communities need to take responsibility too. Today, Edwards outlined new initiatives to promote healthy families and communities. He will invest in home visits by registered nurses to low-income new parents. Children receiving nurse visits are cognitively more advanced than their non-visited peers, have fewer behavioral problems, and are less likely to be abused or neglected.
Edwards will also invest in family literacy programs, which address the educational needs of both parents and children. Thirty million American adults have very limited literacy skills and the children of functionally illiterate parents are twice as likely to be illiterate themselves. President Bush has drastically cut funding for these programs. As president, Edwards will restore funding and give family literacy programs the support they deserve.
Edwards' existing policies to promote strong, responsible families include:
Encouraging and rewarding responsibility from fathers by requiring more fathers to help support their children and, in return, helping them find work.
Cutting the EITC marriage penalty, reducing taxes for 3 million couples by about $400 a year.
Tripling the EITC for adults without children, since working adults without children are the only Americans living in poverty who pay income and payroll taxes, amounting to more than $800 a year.
Fighting teen pregnancy by providing support for struggling young people and investments in programs that help them beat the odds.
For more information on Edwards' proposals to strengthen families, please click here for the fact sheet.
John Edwards, Press Release - On Final Day Of "Road To One America" Tour, Edwards Unveils Initiatives To Strengthen Families Online by Gerhard Peters and John T. Woolley, The American Presidency Project https://www.presidency.ucsb.edu/node/293951