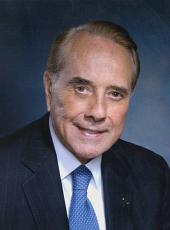 Press Release - Fast Facts (from Dole-Kemp): "New Administration Report Shows Huge Jump in Teen-age Drug Use Since Clinton Took Office
According to a report released today by Bill Clinton's Department of Health and Human Services, there has been a massive increase in teen drug use since Clinton took office. From 1992 to 1995:
* Overall use of all drugs among 12- 17-year olds has skyrocketed 78%
* Fully one in ten (10.4%) youths from age 12 to 17 now use drugs on a monthly basis
* Marijuana use among young people has more than doubled (an increase of 105%) since Clinton took office and has jumped 37% from 1994 to 1995.
* Use of LSD has nearly tripled (an increase of 183%) among young people and shot up by 54% from 1994 to 1995.
* Monthly us of cocaine, the scourge of the 1980's went up among young people by an appalling 166% from 1994 to 1995.
-- National Household Survey on Drug Abuse, U.S. Department of Health and Human Services, released 8/20/96
SO WORRIED ABOUT REELECTION, APPARENTLY
"The Clintonites in fact are worried, so much so, Newsweek has learned, that top officials in the Justice Department last week issued a 'crisis heads-up' about new statistics showing yet another increase in teen drug use nationwide. ... 'They're going to kill us with this.' one senior Justice official said." -- Newsweek, 8/26/96
EVEN HIS OWN FBI CHIEF CONCERNED ABOUT CLINTON'S LACK OF
LEADERSHIP
"Still, Clinton's record on the drug problem is very soft. Newsweek has learned that FBI Director Louis Freeh wrote a scathing memo 18 months ago to complain about the lack of 'any true leadership' in stemming the influx of heroin and cocaine, which Freeh compared to an 'all-conquering army.' Freeh then hand-delivered the memo to Clinton himself -- a bold move." -- Newsweek, 8/26/96
WHAT DO YOU EXPECT WHEN CLINTON'S ANTI-DRUG MOTTO IS
"JUST SAY SURE"?
"Question: If you had it to do over again, would you inhale' (Laughter, applause)
Clinton: Sure, if I could. I tried before." (Laughter)
-- Bill Clinton, MTV's "Choose or Lose Special," 6/16/92
Robert Dole, Press Release - Fast Facts (from Dole-Kemp): "New Administration Report Shows Huge Jump in Teen-age Drug Use Since Clinton Took Office Online by Gerhard Peters and John T. Woolley, The American Presidency Project https://www.presidency.ucsb.edu/node/315551