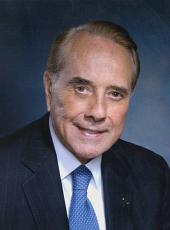 Press Release - Fast Facts: Dole Pledges to Cut Teen Drug Use by 50%
Bob Dole and Jack Kemp understand that crime is a national problem that cannot be solved by the federal government alone. The federal government must work in partnership with state and local governments. Bob Dole's five-point Action Plan will serve as a blueprint for a new era of federal-state-local cooperation in ridding the American social landscape of the crime and drug scourges. As President, he will:
1. Renew our commitment to a drug-free America. Bob Dole will use the bully pulpit of the Oval Office to teach America's youth that drug use is dangerous and wrong.
2. End revolving door justice. Bob Dole will double the current level of actual federal funding for state prison construction to help ensure that violent criminals stay locked up for their full sentences.
3. Hold violent juveniles accountable for their actions, Juveniles charged with serious violent federal crimes will be prosecuted as adults, Sentencing courts will be able to consider prior juvenile offenses.
4. Make prisoners work. Bob Dole will issue an Executive Order requiring able-bodied federal prisoners to work no less than 40 hours each week to help offset the costs of incarceration and pay compensation to the victims of their crimes.
5. Keep guns out of the hands of criminals. Bob Dole will establish a National Instant Check system to keep criminals and others from purchasing firearms, and will instruct his Attorney General to prosecute and punish vigorously those who use guns in criminal activity.
AS PRESIDENT, BOB DOLE WILL ALSO:
* Address the social conditions that contribute to a breakdown of moral values by:
* Continuing his efforts to reform a welfare system that has severely weakened the two-parent family.
* Providing Opportunity Scholarships for children trapped in violent and dysfunctional schools. Challenging the popular media to stop glamorizing drugs, violence, and irresponsible behavior.
Protect the rights of crime victims by:
* Appointing judges who will interpret the Constitution, not amend it to expand the rights of criminals. Ensuring that his federal prosecutors make defending the public's safety their number one priority. Supporting a Constitutional Amendment guaranteeing the victims of crime certain basic rights, including the right to be heard at sentencing, the right to object to plea agreements, and the right to a speedy trial.
Robert Dole, Press Release - Fast Facts: Dole Pledges to Cut Teen Drug Use by 50% Online by Gerhard Peters and John T. Woolley, The American Presidency Project https://www.presidency.ucsb.edu/node/316674