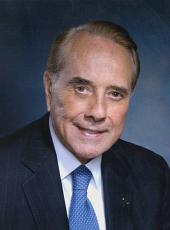 Press Release - Fast Facts
"I think Mr. Kemp has unintentionally made a mistake in saying that President Clinton called for a reduction to 6 percent or whatever you said. I believe you're referring to the Money Magazine interview, and the publisher of Money Magazine just sent Mr. Kemp a letter two days ago asking him to please stop inaccurately citing Money Magazine. It is not what the president said; it is not the president's position."
-- Vice President Gore, 10/9/96
THE MISTAKE IS YOUR'S, MR. GORE
The Clinton Health Care Plan Proposed A 6% Increase
THE REPUBLICAN PLAN TO SAVE MEDICARE
"The government now spends $4,800 on each Medicare recipient. The Republicans want to raise that to $6,700 by 2002. In the misleading language of federal budgets, an increase like this -- at a rate of 6 percent a year instead of the projected 10 percent -- is called a... 'cut.'"
-- James Glassman editorial, Washington Post, 11/21/95
DOESN'T THAT PLAN SOUND A LITTLE FAMILIAR?
"We intend to provide new benefits from -- not cuts -- but from reductions in the rate of growth of Medicare... We are talking about beginning to reduce the rate of increase in Medicare... which would bring us down from about an 11 percent increase annually to about a 6 or 7 percent increase annually."
-- Hillary Clinton, Hearing of the Senate Finance Committee Regarding the Health Security Act of 1993, 9/30/93
ARE YOU SURE YOU MEAN 6%, MRS. CLINTON?
"We are not talking about cuts, we are talking about reducing the rate of growth to inflation plus population plus some gives, but even cutting that in half from eleven to five and a half percent to six percent."
-- Hillary Clinton, speech at George Washington, 9/10/93
UNLESS OF COURSE, SHE MEANS ZERO GROWTH
"Mr. Chairman, we are thinking, zero growth in Medicare spending as a budget target that this country should be moving toward."
-- Hillary Clinton, Hearing of the Senate Finance Committee Regarding the Health Security Act of 1993, 9/30/93
Robert Dole, Press Release - Fast Facts Online by Gerhard Peters and John T. Woolley, The American Presidency Project https://www.presidency.ucsb.edu/node/316038