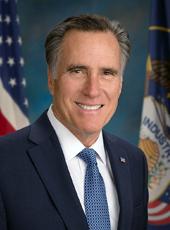 Press Release - Excerpts of Remarks at the Club for Growth in Palm Beach, Florida
[Key Excerpts (As Prepared For Delivery):]
Governor Romney: "I believe we must do as John F. Kennedy did in the 1960s and Ronald Reagan did in the 1980s: we must cut income tax rates for all Americans. This approach is fair, simple and extends the pro-growth benefits of tax rate cuts to all Americans. And by increasing incentives, a marginal rate cut will energize our economy and grow and create jobs." (Governor Mitt Romney, Remarks At The Club For Growth, Palm Beach, FL, 3/29/07)
Governor Romney: "It's absolutely critical that we make the Bush tax cuts permanent. In the process of making the Bush tax cuts permanent, let's also drive a stake through the heart of the death tax and truly kill it once and for all." (Governor Mitt Romney, Remarks At The Club For Growth, Palm Beach, FL, 3/29/07)
Governor Romney: "Liberals urged me to raise taxes, but I knew that the solution to a budget deficit is not to find ways to raise more revenue; it is to cut spending. So I eliminated and combined duplicative and wasteful agencies and programs. That laid the groundwork for what followed: four years of balanced budgets. One commentator said that I didn't just go after the sacred cows, I went after the whole herd. And when I left office, Massachusetts had 600 fewer state workers than when I took office." (Governor Mitt Romney, Remarks At The Club For Growth, Palm Beach, FL, 3/29/07)
Maintaining Economic Growth By Lowering Taxes:
Governor Romney Proposes Lowering Tax Rates For All Americans. We should strive to keep marginal tax rates on America's families and businesses no higher than those imposed by our major global competitors. We should end tax penalties against saving and investment, and promote fairness and simplicity by ending special interest loopholes and lowering tax rates for all Americans.
Governor Romney Has A Record Of Fighting For Lower Taxes. As Governor of Massachusetts, he turned a $250 million retroactive capital gains tax increase into a $250 million refund, made the investment tax credit permanent, passed sales tax holidays, gave property tax breaks to seniors, and in each of his last three years in office, submitted a budget that cut the income tax.
Spending:
Governor Romney Believes Washington's Focus Should Be On Cutting Spending. Washington has been on an explosive spending binge. Governor Romney has proposed three initiatives to cut spending: vetoing appropriations bills that exceed spending targets; giving the president line-item veto power; and reviewing each individual federal program to eliminate bureaucracy and waste. Governor Romney has a strong record of fiscal discipline turning a $3 billion budget gap into a $1 billion surplus.
National Tort Reform:
Governor Romney Supports Nationwide Reforms To Our Tort System. We need to enact tort reforms that will lower U.S. tort costs, help business grow, allow companies to spend more on research and development, while at the same time protect the legitimate interests of consumers. We must make the system fairer and more predictable for both business and individuals. And we must do it at the federal level with national reforms.
Union Card Check Legislation:
Governor Romney Supports The Rights Of Workers To Decide Whether To Join A Union Or Not. Democrats want to deny workers the right to make the decision on whether to unionize by secret ballot and mandate that unionization be allowed by a "card check" system. We oppose taking away workers' rights to a secret ballot.
Regulatory Reform and Sarbanes-Oxley:
Governor Romney Believes The Washington Regulatory Burden Is Too High. Too often politicians in Washington do not consider the real world negative economic effects of the many regulatory weeds that choke off economic growth. One of these regulations that must be pruned is Sarbanes-Oxley.
Governor Romney Opposes McCain-Feingold Regulation Of Free Speech. The American people should be able to exercise their First Amendment rights without having to first think about hiring a lawyer. America has a rich history of protecting speech. But the McCain-Feingold law is having a chilling effect on grassroots advocacy.
Governor Romney's Overall Economic Priorities:
As President, Governor Mitt Romney Will Pursue A Conservative, Pro-Growth Economic Agenda. Governor Romney's number one economic priority will be to grow the economy - helping to create good jobs, raise incomes and preserve American strength. He will work to rein in excessive government spending and reform entitlements. To ensure America's continued economic growth, he will fight to cut taxes - the Death Tax, savings taxes, corporate taxes and marginal tax rates.
Governor Romney will also promote trade, bring market forces to bear in health care, pursue national tort and liability reform, eliminate excessive regulations that put a burden on our economy and strengthen American families.
Mitt Romney, Press Release - Excerpts of Remarks at the Club for Growth in Palm Beach, Florida Online by Gerhard Peters and John T. Woolley, The American Presidency Project https://www.presidency.ucsb.edu/node/296021