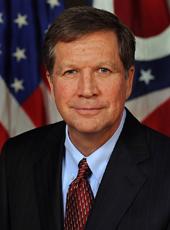 Press Release - Endorsement: N.H. State Sen. David Boutin Endorses Gov. John Kasich
NEW HAMPSHIRE STATE SENATOR DAVID BOUTIN THINKS JOHN KASICH SHOULD BE THE NEXT PRESIDENT OF THE UNITED STATES
Today Hooksett State Senator David Boutin endorsed Ohio Governor John Kasich for President of the United States. Senator Boutin will serve as co-chair of the New Hampshire campaign.
"John Kasich balanced the federal budget, worked on national security issues as a reformer and defense hawk and turned around Ohio," said Senator Boutin. "His experience of actually delivering results in Washington and Ohio sets him apart from the rest of the field. We can trust John Kasich to get things done for us and make our nation strong again."
Sen. David Boutin has served in the New Hampshire Senate since 2010 representing District 16, which covers Bow, Candia, Dunbarton, and Manchester Wards 1, 2 and 12, along with his hometown of Hooksett. He serves as chairman of the Senate Ways and Means Committee, Vice Chair of both the Capital Budget and Public and Municipal Affairs Committees and a member of the Judiciary and Transportation committees. Boutin previously served as a state Representative from Manchester from 1996-2000 and Hooksett from 2008-2010.
"I'm excited to have Senator Boutin join our team," said Governor Kasich. "He's focused on balanced budgets and lower taxes in New Hampshire, the exact things we need to focus on nationally and he'll bring that commitment to our efforts in New Hampshire."
Boutin's endorsement follows other recent endorsements by New Hampshire GOP Leaders Tom Rath, Doug and Stella Scamman, N.H. House Majority Leader Jack Flangan and GOP Leader Nancy Merrill.
John Kasich, Press Release - Endorsement: N.H. State Sen. David Boutin Endorses Gov. John Kasich Online by Gerhard Peters and John T. Woolley, The American Presidency Project https://www.presidency.ucsb.edu/node/313113