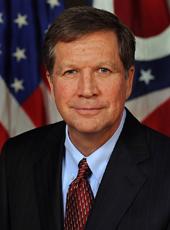 Press Release - Endorsement: New York Political Icon Alfonse D'Amato Endorses Gov. John Kasich
NEW YORK POLITICAL ICON ALFONSE D'AMATO DECLARES: "JOHN KASICH IS MY CHOICE"
Today, Alfonse D'Amato, former U.S. Senator from New York and a leading Republican force in New York politics, endorsed Ohio Governor John Kasich for President.
D'Amato said, "We Republicans need to capture the White House and in order to do that, we must win Ohio.
"John Kasich is the only candidate who can assure us of that victory.
"John Kasich will make America strong and respected. He is a leader, plain and simple. He's the only candidate in the race with a proven record of leadership on state and federal levels. He's straight talking. He does what he believes and he does it well. Look at Ohio; it's come back strong and people are rising."
D'Amato continued, "Look at his success leading the work to balance the federal budget—it hasn't been done since he left the Budget Committee.
"He knows the Pentagon, understands the military, and understands the need for strength as well as a better managed Defense Department. Our troops need the resources to do their jobs safely and deserve to come home to a Department of Veterans Affairs that takes proper care of them.
"John Kasich is a proven political winner in a very tough state for Republicans. He is the candidate who can get America back on track. I'm all in."
After a successful career in local Long Island politics, D'Amato served three terms in the U.S. Senate from New York. No Republican from New York has served in the Senate since him. He was famous for his attention to constituent service as well as his leadership on financial services as chair of the Senate Banking Committee.
"I'm just thrilled that the great Alfonse D'Amato is joining my team. I'd be content to just go out to his favorite pasta joint with him and listen to his stories, but that he's going to help me and my campaign is incredible. He's a great public servant, cares passionately about New York and our nation, is a political mastermind and someone with the fire and genius to win. I'm very appreciative of his willingness to join our effort to bring America together and restore our strength," said Kasich.
John Kasich, Press Release - Endorsement: New York Political Icon Alfonse D'Amato Endorses Gov. John Kasich Online by Gerhard Peters and John T. Woolley, The American Presidency Project https://www.presidency.ucsb.edu/node/313104