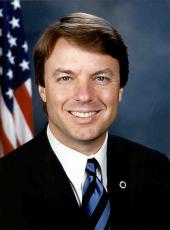 Press Release - Edwards Wins Moveon Poll For Best Plan To Fight Global Warming
Aggressive Plan to Halt Global Warming and Create New Green Collar Jobs Receives 33 percent of vote
Chapel Hill, North Carolina – Today, MoveOn.org Political Action announced that Senator John Edwards won their poll asking which candidate has the best position to halt global warming. Edwards has detailed an aggressive plan to fight global warming and create a new energy economy in our country. This Friday in Iowa, Edwards will outline his "Green Collar Jobs" initiative to train workers to participate in the new energy economy. Edwards won the poll in a landslide receiving 33 percent of the vote from more than 100,000 MoveOn members. The next closest candidates received 15 percent of the vote.
"John Edwards is very happy that MoveOn members share his passion for solving the global warming crisis and building a new energy economy that creates new green collar jobs," said Campaign Manager David Bonior. "It's exciting to see such a strong, positive reaction to his call for Americans to be patriotic about something other than war, and he is looking forward to partnering with MoveOn members and all Americans to turn this plan into reality."
MoveOn held 1,300 virtual town halls across the country last Saturday for members to learn about the candidates' plans to fight global warming. Members were asked to vote in the poll which asked, "Which candidate's position on dealing with the climate crisis do you prefer?" MoveOn is running ads in Iowa and New Hampshire newspapers next week announcing the results of the poll.
Edwards has laid out an aggressive energy plan which halts global warming, achieves energy independence and jumpstarts a new energy economy by:
Limiting U.S. greenhouse gas pollution starting in 2010 with a cap-and-trade system and reducing U.S. greenhouse gas pollution by 80 percent by 2050, as the latest science says is needed to avoid the worst impacts of global warming.
Leading the world to a new climate treaty that commits other countries -- including developing nations -- to limit their pollution. Edwards will insist that developing countries join us in this effort, offering to share new clean energy technology and, if necessary, using trade agreements to require binding greenhouse commitments.
Creating a New Energy Economy Fund by auctioning off $10 billion in greenhouse pollution permits and repealing subsidies for big oil companies. The fund will support U.S. research and development in energy technology, help entrepreneurs start new businesses, invest in new carbon-capture and efficient automobile technology and help Americans conserve energy.
Meeting the demand for more electricity through efficiency for the next decade, instead of producing more electricity.
To read more about Edwards' plan to fight global warming and create a new energy economy, please visit: http://johnedwards.com/about/issues/energy/new-energy-economy/
The poll results can be found at http://www.moveon.org/press/pr/release071107.html
John Edwards, Press Release - Edwards Wins Moveon Poll For Best Plan To Fight Global Warming Online by Gerhard Peters and John T. Woolley, The American Presidency Project https://www.presidency.ucsb.edu/node/293819