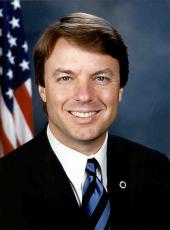 Press Release - Edwards Unveils Plan To Relieve Families From Rising Gas Prices
Menlo Park, California – During a press conference today in Menlo Park, California, Senator John Edwards will unveil his plan to fight rising gas prices by promoting greater competition in the gasoline market. Edwards will also discuss his plan to create a New Energy Economy with biofuels, electric and hybrid vehicles, and more fuel-efficient cars and trucks.
"Families today are struggling – the costs of middle-class necessities like health care, housing, and child care continue to grow and now we can add gas prices to that list," said Edwards. "Families are spending $1,000 more a year on gasoline than they did in 2001, fueling massive profits for Big Oil. We need to stand up to the big oil companies to create affordable choices for regular families."
Gasoline prices are now near an all-time record high. Edwards believes immediate action is necessary to offer families relief from rising gas prices. In order to help struggling families, Edwards will call for an immediate investigation into the causes of higher gasoline prices, including the anticompetitive structure of the oil industry, and for stronger enforcement of laws to ensure free and open competition.
Today, he will call on President Bush, Congress, and state leaders to:
Investigate the anticompetitive actions of the oil industry. Edwards will call for an independent Justice Department investigation into the consolidation of the oil industry, the causes of higher gas prices and remedies to the problem.
Reverse Enron-era deregulation of energy markets by restoring basic transparency and oversight, such as requiring public reporting of large trades, to help identify and deter market manipulation.
End taxpayer subsidies for oil companies and reinvest the savings in affordable, clean and renewable energy.
Require oil companies to invest in clean, reliable refineries. Edwards will call on states to enforce Clean Air Act standards to require oil companies to modernize their refineries, making them cleaner and more reliable.
Edwards believes the United States needs to break its addiction to oil. America's dependence on oil not only leaves families vulnerable, but it compromises our national security and contributes to the crisis of global warming. Edwards has proposed a plan to fundamentally transform our cars and trucks as part of his plan to cap global warming pollution and cut it by 80 percent by 2050. He believes that we can cut oil imports by 7.5 million barrels a day by 2025 – nearly a third of the oil projected to be used in 2025 – and get us on a path to be virtually petroleum-free within a generation.
In order to jumpstart our investment in the future, Edwards will create the $13 billion-a-year New Energy Economy Fund, financed by the sale of greenhouse gas pollution permits and the repeal of subsidies for oil companies. Among other investments, the Fund will:
Create new competition by supporting biofuels. Edwards will require oil companies to install ethanol pumps at 25 percent of their gas stations and require all new cars sold after 2010 to be "flex fuel" cars running on either gasoline or biofuels. He will also set a national goal of 65 billion gallons of ethanol a year by 2025.
Raise fuel economy standards to 40 miles per gallon by 2016 and help U.S. automakers modernize by providing $1 billion a year to help advance and apply the latest technology.
For more details on Edwards' plan to fight rising gas prices please click here for the fact sheet.
John Edwards, Press Release - Edwards Unveils Plan To Relieve Families From Rising Gas Prices Online by Gerhard Peters and John T. Woolley, The American Presidency Project https://www.presidency.ucsb.edu/node/293574