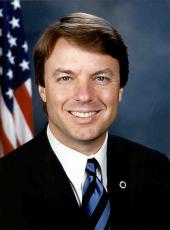 Press Release - Edwards Unveils Plan For "Smart And Safe" Trade Policies That Put Workers And Families First
Will discuss how trade policies can benefit regular families, not just multinational corporations
Cedar Rapids, Iowa - Today, Senator John Edwards proposed his plan for "smart and safe" trade policies that will benefit working and middle class families instead of just big multinational corporations. Edwards believes our trade policies should give workers a level playing field. As president, he will insist on pro-worker provisions in new deals, hold trade partners to their commitments, invest more in dislocated workers and communities, and ensure that imports are safe. Edwards believes that the U.S. should not enter any new trade deals that do not meet these tests.
"Trade has become a bad word for working Americans for a simple reason - our trade policies have been bad for working Americans," said Edwards. "We need new trade policies in America that put workers, wages and families first. It is not enough for a trade deal to be popular on Wall Street or show up in economic statistics. My main measure is just this one - after considering the impact on jobs, wages and prices, will most families be better off?"
Current trade policies include special privileges for corporations, and make it more difficult working Americans to compete in the global economy. As president, Edwards will make sure we have smart and safe trade policies that help families and strengthen our economy. Edwards will:
Be a tough negotiator who will reject bad trade deals. Edwards will make sure trade deals help regular families, include strong labor and environmental standards and fight currency manipulation.
Demand a level playing field for trade. Edwards will assign top prosecutors at the U.S. Department of Justice to the job of enforcing trade laws, including the stronger labor and environment standards he will negotiate. He will eliminate tax incentives for corporations to move offshore.
Revamp trade assistance to help dislocated workers and communities. Edwards will create a new "Training Works" initiative, help communities recover from mass layoffs and strengthen the safety net for workers who lose their jobs.
Ensure the safety of imported food and drugs and enforce mandatory country-of-origin labeling, letting families choose the origin of their food. Edwards will also enforce a "zero tolerance" rule and immediately freeze the specific import of any food, toys, medicines, or other goods that threatens the health of our children and families.
Require Country-of-Origin labeling so that consumers have the option of choosing safe, American-raised meat and poultry and American-grown produce.
Edwards believes that in order to ensure that our trade policies and our economy work for regular Americans we need to end the influence of lobbyist money in Washington. He renewed his call for all federal officeholders and candidates from all political parties to join him in refusing to accept any form of campaign donation from federal lobbyists.
---
More Information:
John Edwards, Press Release - Edwards Unveils Plan For "Smart And Safe" Trade Policies That Put Workers And Families First Online by Gerhard Peters and John T. Woolley, The American Presidency Project https://www.presidency.ucsb.edu/node/293993