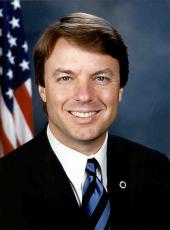 Press Release - Edwards Takes The "Road To One America" Tour Online
Chapel Hill, North Carolina — As part of his ongoing effort to end poverty in America, Senator John Edwards will travel to 8 states next week on a "Road to One America" tour to shine a bright spotlight on what he calls "the great moral issue of our time." As part of the tour, Edwards will use a variety of innovative multimedia and online tools to engage and energize Americans from across the country in the fight against poverty.
The tour kicks off in New Orleans on Monday, July 16th and travels more than 1,800 miles before ending on Wednesday, July 18th, in Prestonsburg, Kentucky, where Senator Robert F. Kennedy concluded his 1968 tour of impoverished regions in Southeastern Kentucky. During the tour, people can visit the John Edwards website to follow the tour's progress on an interactive online map the features multimedia content, such as video, photographs and blog posts.
Edwards will be meeting with people struggling with poverty and will be using online tools to help share their stories with the nation. The campaign will be posting blog entries and sending emails featuring stories from the road, so readers who can't join Edwards on the tour can still be a part of it. The campaign will also be highlighting the voices of people who attend stops on the tour – encouraging bloggers to attend stops and posting stories and multimedia content on the John Edwards website created by people from each stop on the tour.
The campaign will continue its groundbreaking use of text messaging to reach out to Americans. Each day, people will get audio updates from the tour, excerpts from Senator Edwards' remarks and the voices and stories of people he meets along the way. Additionally, the campaign will post the multimedia content on numerous social networks, like Twitter, MySpace and Facebook in order to reach a larger community of Americans interested in fighting poverty.
Starting next week, the local action arm of the campaign – John Edwards One Corps – will be launching a National Poverty Action Week from Monday, July 16th through Sunday, July 22nd. During the National Poverty Action Week, One Corps members will be rolling up their sleeves and taking action to fight poverty in communities across the nation.
Edwards has made ending poverty in America a pillar of his campaign and laid out a plan to do so within 30 years. He has also outlined detailed plans to lift up working families by guaranteeing quality, affordable health care for every person in America, rewarding work by raising the minimum wage to $9.50 by 2012, protecting workers' right to organize and making college more affordable. Born to working-class parents, Edwards understands the struggles facing working families and has dedicated his life to fighting for them. For the past two years, Edwards served as the Director of the Center on Poverty, Work and Opportunity at the University of North Carolina at Chapel Hill. He joined with grassroots coalitions to help raise the minimum wage in six states in 2006 and has helped more than 20 national unions organize thousands of workers into unions.
John Edwards, Press Release - Edwards Takes The "Road To One America" Tour Online Online by Gerhard Peters and John T. Woolley, The American Presidency Project https://www.presidency.ucsb.edu/node/293790