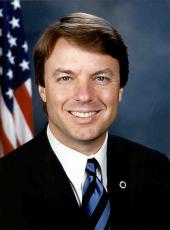 Press Release - Edwards Support Strong In South Carolina; More Than 50 Democratic Leaders Endorse John Edwards For President
Columbia, South Carolina – Today, the John Edwards for President campaign announced that more than 50 Democratic leaders from across South Carolina endorsed Senator John Edwards for President. Building on Edwards' already strong base of support in his home state, South Carolina leaders from all levels of government joined his campaign, believing that Edwards is the best candidate for President.
"I am honored to have the support of all of these great South Carolina leaders," said Edwards. "I look forward to campaigning in South Carolina and working with them over the upcoming weeks and months to share my vision of change with South Carolina voters."
State Senate Minority Leader John Land: "Senator Edwards chalked up an overwhelming victory in South Carolina in our last presidential primary and will win South Carolina once again."
State Representative Bill Clyburn: "I am proud to support John Edwards and his wife, Elizabeth. John Edwards is the one candidate laying out specific proposals to help the people of South Carolina, his home state."
Mayor Bob Coble of Columbia: "It is imperative that South Carolina Democrats nominate a candidate who will bring bold new leadership to address the challenges our country faces."
South Carolina legislators and leaders endorsing John Edwards for President today are:
Mayor Bob Coble, Mayor of Columbia

Richland County

Senator John Drummond, President Pro Tempore Emeritus, South Carolina State Senate

Abbeville, Greenwood and Laurens Counties

Senator John Land, South Carolina State Senate, Democratic Leader

Calhoun, Clarendon, Florence, and Sumter Counties

Senator Brad Hutto, South Carolina State Senator

Allendale, Bamberg, Barnwell, and Orangeburg Counties

Senator Peden McLeod, Former South Carolina State Senator

Colleton County

Senator Jim Bryan, Former South Carolina State Senator

Laurens County

Representative Bill Bowers, South Carolina State Representative

Colleton and Hampton Counties

Representative Grady Brown, South Carolina State Representative

Lee and Sumter Counties

Representative Bill Clyburn, South Carolina State Representative

Aiken and Edgefield Counties

Representative Chris Hart, South Carolina State Representative

Richland County

Representative Lonnie Hosey, South Carolina State Representative

Allendale and Barnwell Counties

Representative Leon Stavrinakis, South Carolina State Representative

Charleston County

Representative Ted Vick, South Carolina State Representative

Chesterfield County

Representative Palmer Freeman, Former South Carolina State Representative

Richland County

Solicitor Jay Hodge, South Carolina Solicitor

Chesterfield, Darlington, Dillon, and Marlboro Counties

Cort Flint, Member, Greenville County Council

Greenville County

Beverly Clyburn, Member, Aiken City Council

Aiken County

Jimmy Gallant, Member, Charleston City Council

Charleston County

Linda Dogan, Member, Spartanburg City Council

Spartanburg County

Paul Tinkler, Member, Charleston City Council

Charleston County

Rudloph Bradley, Member, Georgetown City Council

Georgetown County

Wendall Gillilard, Member, Charleston City Council

Charleston County

Tommy Burton, Member, Johnston Town Council

Edgefield County

Lori Church, Vice President, Democratic Women's Council of Horry County

Horry County

Bernard Prezzy, Member, Orangeburg School District #3 and South Carolina State Democratic Party Executive Committee

Orangeburg County

Tim Moore, South Carolina Democratic Party State Executive Committee and former Chairman of the Barnwell County Council

Barnwell County

Marlon Kimpson, Former Chair of South Carolina Election Commission and Former 1st Vice-Chairman of the South Carolina Democratic Party

Charleston County

Boyd Brown, Third Vice Chair, Fairfield County Democratic Party and former President, University of South Carolina Young Democrats

Fairfield County

Nancy Poole, Past President, Democratic Women's Council of Horry County

Horry County

Fred Sheheen, South Carolina Democratic Party State Executive Committee and former Commissioner of the State Commission on Higher Education

Kershaw County

Ken Campbell, Chairman, Oconee County Democratic Party

Oconee County

Mike Evatt, South Carolina Democratic Party Executive Committee and Former Chairman of the Oconee County Democratic Party

Oconee County

David Vandiver, South Carolina Democratic Party State Executive Committee

Anderson County

Ronnie Maxwell, Former Chairman, South Carolina Democratic Party

Aiken County

Mullins McLeod, Former Chairman, Charleston County Democratic Party

Charleston County

Michael Ray Ellisor, 2006 Democratic Nominee for the 2nd Congressional District

Lexington County

Katie Fowler, Former Statewide President, South Carolina Young Democrats

Charleston County

Shirley Green, President of First Congressional District Women's Council

Horry County

Jamie Hinds, Former Vice Chair, Greenville County Democratic Party

Greenville County

Ginger Johnson Sottile, Charleston County Democratic Party Executive Committee

Charleston County

Sally Howard, Former South Carolina Democratic Party Executive Committee Member

Horry County

Tyler Jones, President of Charleston Southern University Democrats

Charleston County

Cal Land, Clarendon County Democratic Party

Clarendon County

Susan Smith, President of the Waccamaw Neck Democrat Club

Georgetown County

Carrie Rachel Dean, Former Statewide President South Carolina Young Democrats

Richland County

James E "Jimmy" Truesdale, Charleston County State Executive Committee, Community Activist

Charleston County

Richard Smith, Georgetown County Democratic Party Chair

Georgetown County

Charles Hamby, Former Chairman Oconee County Democratic Party

Anderson County

Sue Berkowitz, Community activist

Richland County

Sylvia Conwell, Community activist

Horry County

Tony Clyburn, Community activist

Charleston County

Courtney Clyburn, Community activist

Richland County

Donna Dewitt Matthew, Community activist

Orangeburg County

Betty Hamby, Community activist

Anderson County

Anniebell Jeffcoat, Community activist

Lexington County
John Edwards, Press Release - Edwards Support Strong In South Carolina; More Than 50 Democratic Leaders Endorse John Edwards For President Online by Gerhard Peters and John T. Woolley, The American Presidency Project https://www.presidency.ucsb.edu/node/294042