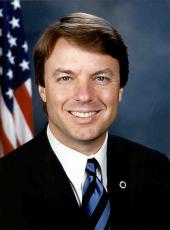 Press Release - Edwards Recognizes The Anniversary Of The Americans With Disabilities Act
Calls for strengthening the law
Chapel Hill, North Carolina – On the eve of the anniversary of the Americans with Disabilities Act (ADA), Senator John Edwards called for Congress to pass new legislation strengthening the ADA. At the same time, Edwards' campaign announced that he had been endorsed by several prominent leaders in the disability rights movement.
"As we prepare to celebrate the 17th anniversary of the landmark Americans with Disabilities Act, we must reclaim the ADA. Hostile, conservative judges have put new barriers in front of Americans with disabilities who seeking nothing more than the right to work and live with dignity," said Edwards. "Congress should pass the ADA Restoration Act to ensure that the law remains consistent with Congress' original intent and restore civil rights protections to people with epilepsy, depression, diabetes, cancer and other conditions."
Edwards has long supported initiatives to break down the barriers that separate people from disabilities from opportunity in America, including:
Enforcing the right of every child to receive a free and appropriate education in schools that are fully accessible.
Creating new internship and mentoring programs that break down barriers for young people making the transition from school to work.
Providing accessible transportation so people with disabilities have a way to get to work.
Making the federal government a model employer to lead the way toward a fully-inclusive American workplace.
Securing the rights of people with disabilities to live independently with the services and supports they need, which is essential to guaranteeing equal opportunity.
Edwards is also committed to including closed captions on all campaign television advertisements and is in the process of captioning all videos on JohnEdwards.com. The campaign's Web site is designed to be accessible to all visitors.
"Many people with disabilities live in poverty because they are denied full and equal opportunities in education and employment. Their transportation needs are ignored. They also face discriminatory and dehumanizing inequities in health care," said Laurie McCray, New Hampshire parent advocate. "I am confident that as president, John Edwards will be a strong and compassionate advocate for people with disabilities so they can have successful and meaningful lives."
California Democratic Party Disabilities Caucus Chair August J.P. Longo said, "Senator Edwards never forgetting to include people with disabilities in his speeches and platform tells us that he will not forget us in his Administration."
"During the days when ADA was being considered I wrote to Senators and Representatives regarding this important legislation. Now as we celebrate the anniversary of the ADA I can say that I did that. That is the type of action that John Edwards inspires all of us to take" said Jon Raiss, Michigan Democratic Party Disabilities Caucus Chair.
The leaders in the disability rights movement endorsing Edwards are:
Jon Raiss, Michigan Democratic Party Disabilities Caucus Chair
Laurie McCray, New Hampshire Parent Advocate
August J. P. Longo, California Democratic Party Disabilities Caucus Chair and President of FDR Democratic Club
Ed Smith, Former Democratic National Committee Member
Deb Cotter, National Disability Rights Advocate
Steve Sfekas, Co-Chair of 2006 Maryland Governor's Transition Group on Disabilities (MD)
John Edwards, Press Release - Edwards Recognizes The Anniversary Of The Americans With Disabilities Act Online by Gerhard Peters and John T. Woolley, The American Presidency Project https://www.presidency.ucsb.edu/node/293897