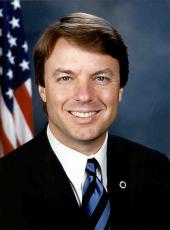 Press Release - Edwards Lays Out Comprehensive Proposal To Enact His Plan For Iraq
Calls on Congress to stop debating and take action: Cap funding for troops in Iraq at 100,000 troops and stop the surge; end war in 2008
Says Bush is acting without authorization
Chapel Hill, North Carolina – Senator John Edwards today laid out a comprehensive proposal for Congress to implement his plan to stop President Bush's escalation of the war in Iraq and begin an immediate withdrawal by capping funding for troops at 100,000, and requiring withdrawal of all combat troops over the next 12-18 months.
"Nearly a month ago, I called on Congress to block the President's escalation of war. Unfortunately, while Congress has been debating Iraq, President Bush has been surging troops into Iraq. The escalation is underway, so blocking it is no longer enough – now we have to take the next step and cap funding to mandate a withdrawal," Edwards said. "We don't need debate; we don't need non-binding resolutions; we need to end this war, and Congress has the power to do it. They should use it now. In order to get the Iraqi people to take responsibility for their country, we must show them that we are serious about leaving, and the best way to do that is to actually start leaving."
Edwards believes that the only solution to the situation in Iraq is a political solution, which requires all the parties in Iraq to take responsibility for the future of their country. By leaving Iraq, the Iraqi people, regional powers, and the entire international community will be forced to engage in the search for a political solution that will end the sectarian violence and create a stable Iraq. Escalating the war sends exactly the wrong signal to the Iraqi people, regional powers and the world.
Edwards' plan for Iraq calls for Congress to:
Cap funding for the troops in Iraq at 100,000 troops to stop the surge and implement an immediate drawdown of 40-50,000 combat troops. Any troops beyond that level should be redeployed immediately.
Prohibit funding to deploy any new troops to Iraq that do not meet real readiness standards and that have not been properly trained and equipped, so American tax dollars are used to train and equip our troops, instead of escalating the war.
Make it clear that President Bush is conducting this war without authorization. The 2002 authorization did not give President Bush the power to use U.S. troops to police a civil war. President Bush exceeded his authority long ago, and now needs to end the war and ask Congress for new authority to manage the withdrawal of the U.S. military presence and to help Iraq achieve stability.
Require a complete withdrawal of combat troops in Iraq in the next 12-18 months without leaving behind any permanent U.S. military bases in Iraq.
After withdrawal, Edwards believes that sufficient forces should remain in the region to contain the conflict and ensure that instability in Iraq does not spillover and create a regional war, a terrorist haven, or spark a genocide. In addition, Edwards believes the U.S. should step up our diplomatic efforts by engaging in direct talks with all the nations in the region, including Iran and Syria and work to bring about a political solution to the sectarian violence inside Iraq, including through a peace conference. He also believes the U.S. must intensify its efforts to train the Iraqi security forces.
John Edwards, Press Release - Edwards Lays Out Comprehensive Proposal To Enact His Plan For Iraq Online by Gerhard Peters and John T. Woolley, The American Presidency Project https://www.presidency.ucsb.edu/node/293499