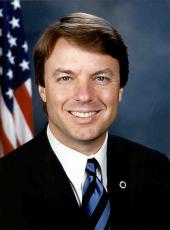 Press Release - Edwards Launches First TV Ad In New Hampshire
Manchester, New Hampshire – Today, the John Edwards for President campaign launched its first television ad in New Hampshire. The ad, "Strength of America," begins airing today and highlights Edwards' belief that the strength of our country lies in the American people and that by taking action we can strengthen the middle class, lift families out of poverty and transform America. The ad also highlights the campaign's intensified commitment to engage New Hampshire voters. The campaign made the decision to go up on the air in New Hampshire after determining that it was on track to raise the $40 million needed to implement the campaign plan.
"As we continue to expand our campaign's effort in New Hampshire, we are proud to unveil our first TV ad, which highlights the responsibility we all have to get involved and make a difference," said deputy campaign manager Jonathan Prince. "We are excited by the response that John Edwards is seeing from New Hampshire voters and we look forward to engaging them in our campaign to create one America with equal opportunity for all our people."
The ad focuses on the larger sense of responsibility that we share to build a better America for ourselves, for our neighbors and for our children. Edwards has made a call to action for all Americans a central theme of his campaign and this ad aims to amplify that call to New Hampshire voters. Edwards has worked to empower Americans through service in many ways, including through his service organization, One Corps, service trips to New Orleans and by encouraging young people to stand up and get involved. Edwards has spoken with New Hampshire families across the state about our responsibility to help each other as he has outlined his plans to:
Provide truly universal health care
Help families save and give them what they need to fall back on in rough times: savings, home equity and secure pensions
Strengthen schools and make college affordable
The ad can be viewed at: http://johnedwards.com/nh/ad
The full script of the ad is below.
---
"STRENGTH OF AMERICA" (TV -:30)
John Edwards:
"Will we make America the country of the 21st Century?
That depends on all of us.
It's not that we don't know what needs to be done.
To lift families out of poverty.
To strengthen the middle class in this country.
We know what needs to be done.
The strength in America is not just in the Oval office,
The strength in America is in this room, right now.
It's the American people.
And it's time for the President of the United States to ask Americans to be patriotic about something other than war."
"I'm John Edwards and I approve this message."
John Edwards, Press Release - Edwards Launches First TV Ad In New Hampshire Online by Gerhard Peters and John T. Woolley, The American Presidency Project https://www.presidency.ucsb.edu/node/293751