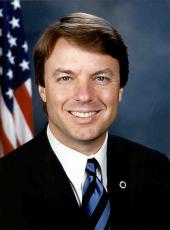 Press Release - As Edwards Kicks-Off Road To One America Tour, Senator Announces Three-Point Plan To Rebuild New Orleans
New Orleans, Louisiana – Today, Senator John Edwards will visit New Orleans and take a walking tour of the Lower Ninth Ward, where he will announce his three-point plan to rebuild New Orleans after Hurricane Katrina. Edwards is in New Orleans to kick off his three-day, eight-state "Road to One America" tour to shine a bright spotlight on the issue of poverty in America.
"We are not the country of the Superdome in New Orleans after Katrina," said Edwards. "We can do better. We have a moral responsibility to get New Orleans back on its feet."
Edwards' plan to rebuild New Orleans is based on: (1) rebuilding infrastructure – housing, schools, and hospitals – that is built to last so that people have something to come back to, (2) creating jobs to bring them back, (3) making the city safe from storms – with levees that can withstand another Katrina, and strengthening public safety to keep residents safe from crime.
Edwards continues to draw attention to the struggles in New Orleans and help with rebuilding efforts. He announced his candidacy for president in New Orleans this past December and in the spring of 2006, he brought 700 college students to Louisiana to help with rebuilding efforts.
The rebuilding of infrastructure in New Orleans is stalled. The city needs new hospitals, clinics, schools and roads. Today, Edwards will call for building a new Veterans' hospital downtown. Edwards will also call on the VA to stop delaying site selection and choose downtown New Orleans, and then fast-track the design process so construction can begin. He will also propose building a 21st century infrastructure, integrating new housing, and preserving livable housing.
Edwards believes we need to create good jobs in New Orleans. He will propose hiring 50,000 Gulf Coast residents to fill stepping stone jobs dedicated to rebuilding infrastructure that will help local and returning residents gain skills and experience. He will also protect workers from contractor exploitation.
Finally, Edwards believes we need to protect the city and the region from weather and crime. As president, Edwards will do whatever is necessary to ensure that Katrina never happens again, including building stronger levees and restoring coastal wetlands. Following Katrina, New Orleans has experienced an epidemic in violence. Edwards will strengthen public safety to end the epidemic of crime and violence.
For more information on Edwards' plan to get New Orleans back on its feet, please click here for the fact sheet.
John Edwards, Press Release - As Edwards Kicks-Off Road To One America Tour, Senator Announces Three-Point Plan To Rebuild New Orleans Online by Gerhard Peters and John T. Woolley, The American Presidency Project https://www.presidency.ucsb.edu/node/293800