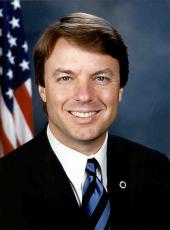 Press Release - Edwards Iowa Campaign Shows Strength With 99 Rural County Chairs And New, Specific Plan For Rural America
Adel, Iowa – As Senator John Edwards began a three-day tour of Iowa to highlight his detailed new Rural Recovery Act, the campaign demonstrated its growing strength in Iowa with the announcement of Rural County Chairs for all 99 Iowa counties.
The Edwards campaign becomes the first—and only—2008 campaign in either party to recruit rural chairs for every county in the state, reflecting Edwards' broad support among Iowans. The coordinators will advise the campaign on issues of concern to rural families and help spread the word to their neighbors throughout the state about Edwards' detailed, specific plans for their communities. Edwards surprise second place finish in 2004 was due in part to his success in rural Iowa.
"Rural America has been ignored for too long," said Edwards. "Across America, too many small towns have turned into ghost towns. We need to help small towns and rural communities create and keep new businesses and good jobs, and we need a president who will make sure all our communities have good schools, good health care and the support systems they need. As president, I will make sure rural America is never left behind."
"Senator Edwards' comprehensive and detailed plan for rural America has earned him a strong base of support throughout rural Iowa," said Doug Bishop, County Treasurer and Rural County Chair for Jasper County. "He understands the unique challenges we face and is committed to building a thriving economy in every corner of our state. My fellow rural county chairs and I will do all we can to spread this message and help him achieve bold, transformational change for rural America."
Edwards' Rural Recovery Act would restore economic fairness and create new jobs and businesses in rural America, help struggling counties and towns and protect rural people and their way of life. A summary of the initiative is attached.
Edwards is discussing the initiative with Iowans in visits to Adel, Boone, Des Moines, Indianola, Muscatine, Mason City, Waterloo and Fort Dodge. This is Edwards' 22nd trip to Iowa since the beginning of 2005.
Edwards' 99 Rural County Chairs are:
Larry Lemon, Orient, Adair County
Jessie Krauth, Corning, Adams County
John Smola, Monona, Allamakee County
Barbara Kauzlarich, Mystic, Appanoose County
James Lynam, Exira, Audubon County
Betty Ann Butz, Norway, Benton County
Judith Brandenburg, Evansdale, Black Hawk County
William Judge, Ames, Boone County
Walt Ebert, Plainfield, Bremer County
Merle Wilson, Jesup, Buchanan County
Charlotte Sundberg, Alta, Buena Vista County
Susan Baker, Parkersburg, Butler County
Merle Chamberlain, Lake City, Calhoun County
Connie Bock, Glidden, Carroll County
Fred Vorrath, Atlantic, Cass County
Don Place, Durant, Cedar County
Roger Hunt, Nora Springs, Cerro Gordo County
Judy Buss, Cherokee, Cherokee County
Gerald Johnson, New Hampton, Chickasaw County
Darlene Handrock, Osceola, Clarke County
Lorraine Pullen, Spencer, Clay County
Jay Kleaveland, Elkader, Clayton County
Jim Ralston, Delmar, Clinton County
Pat Healy, Vail, Crawford County
Brenda Peshel, Adel, Dallas County
Carl Boas, Bloomfield, Davis County
Marie McBroom, Decatur, Decatur County
Terry Ryan, Coggon, Delaware County
Elizabeth & Keith Renner, Danville, Des Moines County
Ford Wright, Arnolds Park, Dickinson County
Garry Pape, Durango, Dubuque County
Dale Green, Estherville, Emmet County
Gayle Tellin, Westgate, Fayette County
Loyd Johnson, Nashua, Floyd County
Bruce Dohrmann, Latimer, Franklin County
Joyce Morgan, Hamburg, Fremont County
Linda McWilliam, Paton, Greene County
Anabel Speicher, Conrad, Grundy County
Loa Benton, Guthrie Center, Guthrie County
Rebecca Cole, Jewell, Hamilton County
Curtis Eliason, Kanawha, Hancock County
Susan Seedorff-Keninger, Ackley, Hardin County
Maxine Lesline, Logan, Harrison County
Rich McCabe, Mount Union, Henry County
Clement Donlan, Lime Springs, Howard County
Joleen Johnson, Humboldt, Humboldt County
Jean Neal, Arthur, Ida County
Janice Bringmann, Victor, Iowa County
Jane Dubert, Maquoketa, Jackson County
Doug Bishop, Baxter, Jasper County
Norma Emerson, Fairfield, Jefferson County
Paul Deaton, Solon, Johnson County
Victoria & Kyle Tapken, Anamosa, Jones County
Betty Adams, What Cheer, Keokuk County
Thomas McCleish, Bancroft, Kossuth County
Dolores Genck, Donnellson, Lee County
Cindy & Patrick Nulty, Ely, Linn County
Benita Grooms, Oakville, Louisa County
Betty Snakenberg, Chariton, Lucas County
Gloria Nitzschke, Rock Rapids, Lyon County
Robert Bell, St. Charles, Madison County
Charlotte Moore, Eddyville, Mahaska County
Tammy Marsh, Pleasantville, Marion County
Nina Biensen, State Center, Marshall County
Carol Crawford, Glenwood, Mills County
Dawn Lackore, Osage, Mitchell County
Edna Angove, Onawa, Monona County
Leland Carmichael, Villisca, Montgomery County
Dennis Ryan, Melrose, Monroe County
Charlene Dusenberry, Muscatine, Muscatine County
Donna Dawson, Paullina, O'Brien County
Ruth Krull, Sibley, Osceola County
Betty Maley, Clarinda, Page County
Bruce Osborn, Cylinder, Palo Alto County
Ken Giffin, Akron, Plymouth County
Audrey Simonson, Rolfe, Pocahontas County
Mary Clark, Carlisle, Polk County
Fred Howard, Underwood, Pottawattamie County
Rita Ferneau, Malcom, Poweshiek County
Katherine Werner, Lamoni, Ringgold County
John Getzmier, Schaller, Sac County
Wayne Sapp, Walcott, Scott County
Paul Jensen, Harlan, Shelby County
Virginia Sederstrom, Hawarden, Sioux County
Kermit Miskell, Story City, Story County
Maralyn Hotchkiss, Toledo, Tama County
Betty Adams, Bedford, Taylor County
Robert Culbertson, Afton, Union County
James Davis, Keosauqua, Van Buren County
Joan Hunt, Blakesburg, Wapello County
Alnice Nichols, Ackworth, Warren County
Donna Leyden, Riverside, Washington County
Steven Ruble, Corydon, Wayne County
Philip Cooney, Duncombe, Webster County
Kevin Thorsheim, Forest City, Winnebago County
Doyle Gorden, Castalia, Winneshiek County
Nancy Felts, Pierson, Woodbury County
Tim O'Keefe, Manly, Worth County
Coleen Johnson, Belmond, Wright County
John Edwards, Press Release - Edwards Iowa Campaign Shows Strength With 99 Rural County Chairs And New, Specific Plan For Rural America Online by Gerhard Peters and John T. Woolley, The American Presidency Project https://www.presidency.ucsb.edu/node/294289