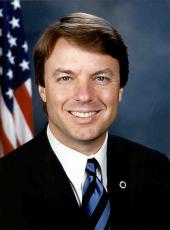 Press Release - Edwards Gets Rave Reviews At The California Democratic Convention
Senator Edwards spoke at the California Democratic Convention yesterday and got rave reviews from both the press and people attending the convention. In his speech, Edwards urged Congress not to compromise on the Iraq funding bill. You can watch Edwards discuss Iraq here, or you can listen to the entire speech here
The Los Angeles Times' Mark Barabak and Maeve Reston described Edwards' reception, "Edwards, who entered the hall to a pounding hip-hop rhythm and took more than five minutes to work his way from a side entrance to the stage, received one of the strongest receptions of the weekend after delivering perhaps the widest-ranging speech. His remarks touched on race relations, environmental issues, AIDS in Africa and genocide in Darfur."
Adam Nagourney from the New York Times, describes the crowd reaction as Edwards discussed Iraq: "Sunday, he brought the crowd to its feet with some of the toughest antiwar language heard this weekend. He said he would withdraw 50,000 troops immediately, and remove the rest within 18 months. 'They should not back down from this president and let him continue on this terrible course in Iraq,' he said. 'We have to show strength and courage. This is about life and death. This is about war.'"
Martin Wisckol of the Orange County Register: "Former Sen. John Edwards trails Hillary Clinton and Barack Obama in most Democratic primary polls, but he gave a display Sunday of his potential to move up. His speech was among the best received at the California Democratic Party Convention over the weekend." He continued, "More importantly, Edwards dispensed with the life-story part of the speech heard from others the previous day and used that time to drill deeper into issues. The specificity made him sound better versed and more prepared to enact change. Closer scrutiny and comparison of the top three candidates could serve Edwards well in the months ahead."
Paul Hogarth at California Progress Report: "But for those who stuck around to hear Edwards speak, his concrete progressive proposals coupled with a passionate and eloquent message won him many converts on the Convention floor - including possibly myself." Later, he wrote: "While I have not made a firm decision and my opinions may change between now and February 2008, I am now more likely to support John Edwards because he was both passionate and substantive. Delegates who were still at the Convention felt the same way, as the Edwards campaign table ran out of stickers within minutes after his speech."
John Edwards, Press Release - Edwards Gets Rave Reviews At The California Democratic Convention Online by Gerhard Peters and John T. Woolley, The American Presidency Project https://www.presidency.ucsb.edu/node/294305