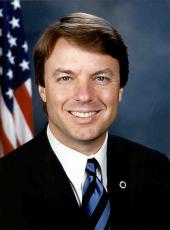 Press Release - Edwards Gains Support In New Jersey
Summit, New Jersey – As Senator John Edwards visits New Jersey today to tour a stem cell research facility with former New Jersey governor and New Jersey state Senate President Richard Codey, he received the support of several prominent New Jersey leaders.
"John Edwards is the best chance Democrats have to win the White House and make a real difference in the lives of America's families," said Assemblymember John McKeon. "John Edwards has detailed plans to build a better America -- plans to guarantee universal health care, end poverty in America, fight global warming and end the war in Iraq. I am proud to support his candidacy and work with him to improve the lives of all Americans."
Codey endorsed Edwards in February saying, "John Edwards has the leadership qualities and the experience to lead this nation. John Edwards also has the best vision to put a Democrat back in the White House."
The Democrats endorsing Edwards for president are:
State Senator Joe Vitale - Deputy Majority Leader, District 19
State Senator Stephen M. Sweeney - District 3
State Senator Nick Scutari - District 22
Assemblymember John McKeon - District 27
Assemblymember Michael Panter - District 12
Pat Gillespie - Old Bridge Council President
Byron Arnao - Council Member, Glen Rock
Bob Davison - Council Member, Caldwell
Daniel J. Carluccio - former Ocean City Prosecutor, Ocean County activist
Peter Eagler - former Assemblymember and Clifton Councilman
A.J. Sabath - former Commissioner of Labor and Workforce Development; currently State Senate President Codey's Chief of Staff
Tim Carden - former Cabinet Secretary to the Governor and Commissioner of Human Services
Amy Rosen - Chief Operating Officer, New Visions for Public Schools
Michael Beson - former Chief of Staff to Congressman Pallone, Jr; Ocean Twp Board of Education member; former Mayor of Neptune; Chair of Howard Dean's 2004 campaign in New Jersey
Gene Mulroy - Principal at Mulroy, LiCausi & Gibbs, LLC; original member of New Jersey Kerry for President Campaign and long-time democratic strategist
Rick Wright - former Chief of Staff to Governor James Florio Deputy State Treasurer; New Jersey Assistant Secretary of Energy under President Carter; National Finance Chair for Bradley for President
Chris Placitella - Cohen, Placitella & Roth; Past President, New Jersey Trial Lawyers
Blair MacInnes - Founding Blair MacInnes, Founding trustee and Honorary Chair of NJ SEEDS, former trustee, Drew University, political activist
Ed Farmer - former Chief of Staff to Congressman Pallone
Nathan Rudy - former Councilman of North Plainfield; Blue 7th PAC; Somerset County Activist
Jeff Gardner - Democracy for America Organizer; LGBT leader and political activist
John Edwards, Press Release - Edwards Gains Support In New Jersey Online by Gerhard Peters and John T. Woolley, The American Presidency Project https://www.presidency.ucsb.edu/node/293606