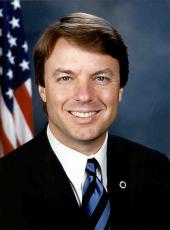 Press Release - Edwards Gains Support in Iowa; More Than 100 Former Vilsack Supporters Endorse John Edwards For President
Des Moines, Iowa — Building on an already strong base of support in Iowa, the John Edwards for President campaign announced today that more than 100 Iowa Democrats who were formerly supporting Governor Tom Vilsack's presidential bid are now supporting Senator John Edwards for President.
"Tom Vilsack is one of the great leaders of Iowa and a powerful voice for all working Americans," said Edwards. "I am honored to have so many of his supporters join my campaign, and I look forward to working with them to build an America where every person has the chance to succeed."
Democrats throughout Iowa continue to join Edwards' grassroots campaign to transform America. Among the former Vilsack supporters endorsing Edwards are State Representative Kurt Swaim and prominent attorney and Democratic activist Ed Skinner.
"John Edwards is a good friend to Iowa," said Swaim. "He knows the people of Iowa and the issues that are important to us. I proudly support his campaign for President. With his leadership, we can get America back on the right path."
"John Edwards is exactly the kind of leader we need here in Iowa and in our country," said Skinner. "He has always stood by working Americans and fought to end injustice in our nation. With his leadership, we can build one America, where every person has the opportunity to achieve the American Dream."
The former Vilsack supporters who are endorsing Edwards for President are:
Iowa State Representative Kurt Swaim, Bloomfield

Union Activist Steelworker John Campbell, Des Moines

Madison County Democratic Party Chair Robert Bell, Saint Charles

Buchanan County Democratic Central Committee Member Merle Wilson, Jesup

Clay County Democratic Central Committee Member Edward Vanlennep, Garber

Butler County Democratic Central Committee Member Susan Baker, Parkersburg

Henry County Democratic Central Committee Chair David Helman, Salem

Henry County Democratic Central Committee Secretary Cathy Helman, Salem

Henry County Democratic Central Committee Vice-Chair Gerald Dingman, New London

Linn County Central Committee Member Michael Warner, Marion

John Riccolo, Linn County Attorney

Ed Skinner, Des Moines

Lois Skinner, Des Moines

Brad Skinner, Des Moines

Elisabeth Clapp, Dike (Grundy County)

Richard Tharp, Des Moines

Katherine Aller, Des Moines

Harold Aller, Des Moines

Angela Vinson, Fort Dodge

Rebecca Elson, Jesup

Pamela Hogan, Winthrop

Thomas Kerr, Hudson

Nancy Garretson, West Des Moines

Caroll Sesker, Slater

Janice Shrader, Blue Grass

Albert Hodapp, Mason City

Arleta Peters, Marshalltown

Josephine Shepard, Newton

James Gran, Newton

George Otto, Newton

Dorothy Probasco, Newton

Ronald Hafits, Sioux City

Gladys Mathews, Sioux City

Marion Morehead, Sioux City

Gertrude Godfrey, Sioux City

Barton Rule, Dunlap

Garold Becker, Waterloo

Joyce Garretson, Salem

Robert Garretson, Salem

Dorothy Malek, Independence

Robert Kocher, Cedar Rapids

Robert Petrzelka, Mt. Pleasant

Zora Ronan, Central City

Paul Ronan, Central City

Dorothy Cookson, Montrose

Dorothy Henry, Dubuque

Robert Paulson, Mason City

Joyce Lambert, Newton

Olen Lambert, Newton

Mary Pritchard, Newton

Robert Pritchard, Newton

Margaret Swalwell, Newton

Wanda Speck, Sioux City

Deanna Klosterman, Sioux City

Miles Klosterman, Sioux City

Samuel Fazio, Des Moines

Betty Fazio, Des Moines

Mark McDonald, Spirit Lake

Ann McTaggart, Sioux City

Michael McTaggart, Sioux City

Darlene Peterson, Sioux City

Virginia Magden, Sioux City

Nancy Young, Storm Lake

Mary Sandeen, Lidderdale

Karolee Wirt, Columbus Junction Dennis Keithly, Council Bluffs

Cynthia Keithly, Council Bluffs

Wanda Helling, Burlington

Mary White, Mt. Pleasant

Allen Rich, Mt. Pleasant

Guy Curran, Cedar Rapids

Mira Dingman, New London

Cathy Wright, New London

Darren Shull, Mt. Pleasant

Donald Beck, Danville

Virginia Beck, Danville

Dianna Klaus, Danville

Frank Harger, Newton

Sally Ruth, Marshalltown

Lee Garrett, Marshalltown

Jean Garrett, Marshalltown

Larry Baldosier, Lockridge

Frank Dietrick, Burlington

Patricia Huffman, Davenport

Susannah Kirk, Cedar Rapids

Thaddeus Katzmark, Cedar Rapids

Peggy Busch, Sioux City

Jack Olds, Davenport

Orville Birkestrand, Davenport

Thora Sorensen, Sioux City

Marilyn Brau, Mt. Pleasant

Franklin White, Burlington

George Bonnett, Burlington

Anna Brown, Dubuque

Theresa Allen, Newton

David Cooper, Newton

Bonnie Cooper, Newton

Diana Swihart, Newton

Susan Snyder, Mt. Pleasant

Todd Liechty, Mt. Pleasant

Russ Wiesley, Waukee

Maurice Glenn, Des Moines

Charles Gifford, Des Moines
John Edwards, Press Release - Edwards Gains Support in Iowa; More Than 100 Former Vilsack Supporters Endorse John Edwards For President Online by Gerhard Peters and John T. Woolley, The American Presidency Project https://www.presidency.ucsb.edu/node/294132