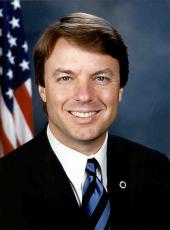 Press Release - Edwards Gains Support From Prominent Women Leaders
Elizabeth Edwards speaks at the Planned Parenthood Action Fund
Washington, DC – As Mrs. Elizabeth Edwards spoke at the Planned Parenthood Action Fund today about Senator John Edwards' commitment to improving the lives of women and families, numerous women leaders endorsed Senator Edwards for president. These leaders believe Edwards is the best candidate to put a Democrat back in the White House and protect women's rights. In May, the campaign launched Women for Edwards, http://johnedwards.com/women/ to organize women around the country who support Edwards.
The following women endorsed Edwards for president:
Belinda Biafore, Vice Chair, West Virginia Democratic Party (WV)
Cindy Burney, Assistant Prosecutor, City of Bay St. Louis (MS)
Maureen Byrne, Community Activist (ME)
Laura Edwards, Co-Founder, Lillian's List (NC)
Lisbeth "Libba" Evans, Former Chair, NC Democratic Party; former Co-Chair, Women's Campaign Fund (NC)
Adelaide Gomer, Park Foundation Trustee (NY)
Susan Good, Co-Chair, California Democratic Party Rules Committee and Member of the California Democratic Party Executive Board (CA)
Carolyn Honeycutt, Former President North Carolina Democratic Women (NC)
Kate Jacobson, Community Activist (MS)
Natalie Jayroe, New Orleans Community Activist (LA)
Pam Johnson, Board Member of the MS Women's Coalition (MS)
Kate Knox, Founder of EWomen and EMERGE Board Member, Attorney (ME)
Nancy Larson, DNC Member (MN)
Debbe Leftwich, State Senator; Co-Chair, Oklahoma Women's Legislative Caucus (OK)
Christi McCoy, Community Activist (MS)
Wendy R. Mullins, Community Activist (MS)
Mary Jo Neville, DNC Member (MD)
Muriel Offerman, DNC Member (NC)
Mary Pallant, Chair, Ventura County Commission for Women (CA)
Elisa Parker, Vice Chair, Tennessee Democratic Party (TN)
Carol Peterson, DNC Member (NC)
Nancy Quarles, Former State Representative (MI)
Melanie Taylor, Community Activist (NC)
Doris Vaccarella, Former Chair, MS Federation of Democratic Women (MS)
Additionally, the supporters below joined Women for Edwards.
Stella Adams, NC Fair Housing Center Executive Director (NC)
Linda Bolon, State Representative (OH)
Jennifer Brady, State Representative (OH)
Kathleen Carney, 8th Congressional District Chair (MI)
Liz Carpenter, Austin (TX)
Kimberly Chiapetto, Floyd County Democratic Chair (VA)
Pam Cooke, Board Member, National Stonewall Democrats
June Deadrick, Community Activist (TX)
Melissa Diaz, Former DNC Hispanic Media Director
Marie Donigan, State Representative (MI)
Trina Ellis Erwin, Michigan Women's Caucus Vice Chair (MI)
Hope Evans, Chair, Northwestern University Students for Edwards Chair (IL)
Joan Flynn, Macomb County Commissioner (MI)
Sherry Freeman, Delta Township Trustee (MI)
Shirley Frye, Community Activist (NC)
Lois Hill, Mount Clemens City Commissioner (MI)
Diana Keller, Wyandotte Democratic Club President (MI)
Christine Koch, Clinton Township Democrats (MI)
Kathleen Law, State Representative (MI)
Elizabeth Lenhard, Vice President, Warren Woods Board of Education (MI)
Maria Mannarino, Lathrup Village City Councilor (MI)
Colleen McGlynn, Chief of Staff to Senate Majority Leader Fred Barry (MA)
Laura Miller, Former Mayor of Dallas (TX)
Paula Pierson, State Representative (TX)
Lana Pollack, Former State Senator, Environmental Leader (MI)
Melissa Price, Vice President, Young Democrats of North Carolina (NC)
Sarah Roberts, Macomb County Commissioner (MI)
Diane Saxe, DNC Member (MA)
Valencia Seay, State Senator (GA)
Ann Sheinwald, Rockport (MA)
Karen Dulaney Smith, Austin Independent School District Board of Trustees (id purposes only) (TX)
Trisha Stein, Former Executive Director, One Michigan (MI)
Melanie Tate, President, Kentucky College Democrats (KY)
Kathy Tocco, Macomb County Commissioner (MI)
Theresa Trujeque, Former Deputy Assistant Secretary, Clinton Interior Department (NM)
Sylvia Trujillo, Community Leader (DC)
Mayra Uribe, Community Leader (FL)
Meredith Vivian, Vice President, University of California, Santa Cruz (CA)
For more information, please contact Colleen Murray at 919-636-3203.
John Edwards, Press Release - Edwards Gains Support From Prominent Women Leaders Online by Gerhard Peters and John T. Woolley, The American Presidency Project https://www.presidency.ucsb.edu/node/293775