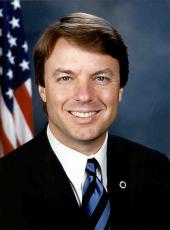 Press Release - Edwards Gains Support From African American Leaders
Chapel Hill, North Carolina – The John Edwards for President campaign announced today the support of a growing list of African American leaders from around the country. In addition to prominent members of Congress, several state representatives, civil rights leaders and community activists are endorsing Edwards for president.
"I am so grateful to have the support of these friends and colleagues who share my commitment to addressing the critical issues facing our communities," said Edwards. "Working together, we can lift up families and make a real difference in people's lives—strengthening our schools, guaranteeing quality, affordable health care and making sure workers are paid fairly."
Today, too many Americans are separated from the opportunities of our country. Edwards has dedicated his life to building One America, where every person—regardless of race, gender or income—has the same opportunities to work hard and get ahead. He has laid out detailed plans to strengthen African American communities and all communities by expanding the middle class and ending poverty in America, protecting workers' rights, providing universal health care, and making college available and affordable for more young people.
In addition to laying out bold plans to bridge the gap between the Two Americas that exist today, Edwards has called on the American people to take action to transform our communities. In the past few years, Edwards has worked to raise the minimum wage in six states, walked picket lines to support workers' right to organize and led service projects to help rebuild the Gulf Coast after Hurricane Katrina.
"I have known John for years and have not hesitated to support him," said Julius Chambers, the campaign's Treasurer, Director of the University of North Carolina Center for Civil Rights and former Director-Counsel of the NAACP Legal Defense and Educational Fund. "His commitment to helping those in need, whether they are Hurricane Katrina survivors or standing with workers fighting for a union in a North Carolina meat processing plant."
The list of supporters includes:
Congressional Supporters
U.S. Representative Mel Watt (NC), Former Congressional Black Caucus Chair
U.S. Representative Eddie Bernice Johnson (TX), Former Congressional Black Caucus Chair
U.S. Representative G.K. Butterfield (NC), Chief Deputy Whip
Former U.S. Representative Eva Clayton (NC)
State Representatives, Civil Rights Leaders, Community Activists
South Carolina State Representative Bill Clyburn
Actor and Human Rights Activist Danny Glover
Former Indiana State Democratic Chair and former DNC Robin Winston
NAACP National Board Member and former North Carolina NAACP State President Melvin "Skip" Alston
Louisiana Civil Rights Activist Kwame Asante
Mississippi Civil Rights Activist Derrick Johnson
Former Virginia NAACP State President Emmitt Carlton
Former North Carolina Supreme Court Justice Henry Frye
North Carolina Community Activist Shirley P. Frye
Missouri Minority Whip State Representative Connie Johnson
Georgia State Representative Wade Starr
University of North Carolina Board of Governors Member Steve Bowden
Oregon State Senate President Pro Tem Margaret Carter
North Carolina Fair Housing Center Executive Director Stella Adams
Georgia Senate Democratic Leader Robert Brown
South Carolina State Representative Lonnie Hosey
Civil Rights Leader Julius Chambers (NC), John Edwards for President campaign Treasurer, Director of the UNC Center for Civil Rights and former Director-Counsel of the NAACP Legal Defense and Educational Fund
South Carolina State Representative Chris Hart
Georgia State Senator Valencia Seay
Former North Carolina DNC Member Ed Smith
Des Moines Iowa Union Activist John Campbell
Texas Community Activist June Deadrick
Arizona Legislative Black Caucus Chair State Senator Leah Landrum-Taylor
North Carolina State Representative Earl Jones
L.A. City Councilman/ Former California Assembly Speaker Herb Wesson
Chair of Maryland Assembly Ways and Means Subcommittee State Delegate Frank Turner
Former Ohio Senate Democratic Leader C.J. Prentiss
Chair of the Texas Legislative Study Group and former Chair of the Texas Legislative Black Caucus State Representative Garnet Coleman
Lathrup Village Council Member Kyrian Nwagwu (MI)
Warterloo Iowa Community Activists Russ and Joy Lowe
Former Chair of Michigan Legislative Black Caucus State Representative
Reverend Dr. Michael C. Murphy
Co-chair of the Oklahoma Senate Education Committee State Senator Judy Eason McIntyre
League of Young Voters Board Member Malia Lazu (NY)
Chair of Minneapolis, Minnesota Democratic Farm Labor Party Keesha Gaskins (for identification purposes only)
Michigan Community Activist Gerry Garrett
John Edwards, Press Release - Edwards Gains Support From African American Leaders Online by Gerhard Peters and John T. Woolley, The American Presidency Project https://www.presidency.ucsb.edu/node/293736