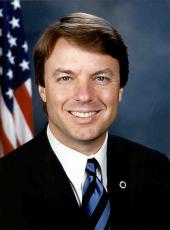 Press Release - Edwards Challenges Democratic Candidates To Support His Call To Raise The Minimum Wage To $9.50 An Hour
Chapel Hill, North Carolina – As the national minimum wage rose to $5.85 per hour today, Senator John Edwards challenged all the Democratic presidential candidates to support his call to raise the minimum wage to $9.50 an hour by 2012.
"Half a loaf is not enough for working men and women, but that is just what Washington—including my fellow Democrats—is giving them on the minimum wage. At $5.85 per hour, the minimum wage remains a national disgrace. Even next year's scheduled increase is not enough to keep a single parent with one child working full-time out of poverty.
"I again challenge other Democratic presidential candidates to support my call for a minimum wage of $9.50 an hour by 2012 so that the minimum wage will equal half the average wage, and to support indexing it to keep up with the cost of living. It is one of the most important tools we have to lift working families out of poverty and begin to make a dent in the inequality that defines the Two Americas."
"The American people are already there. When Congress hesitated before, I was proud to be part of the effort to mobilize voters in six states to act while Washington twiddled it thumbs. It is time to stop vacillating and triangulating, and start standing up for the people who deserve fair compensation for their hard work."
John Edwards, Press Release - Edwards Challenges Democratic Candidates To Support His Call To Raise The Minimum Wage To $9.50 An Hour Online by Gerhard Peters and John T. Woolley, The American Presidency Project https://www.presidency.ucsb.edu/node/293907