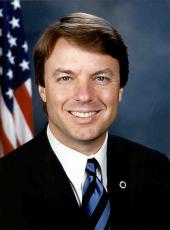 Press Release - Edwards Campaign Statement On Al Qaeda Rebuilding Its Operating Capability
Chapel Hill, North Carolina – John Edwards for President Deputy Campaign Manager Jonathan Prince released the following statement about today's report that Al Qaeda has rebuilt its operating capability to its level pre-9/11 level.
"Today's report that Al Qaeda has rebuilt its operating capability to a level unseen since just before 9/11 is an unsettling reminder of the failures of President's Bush's 'War on Terror' doctrine. Months ago, John Edwards stepped up as the only major candidate to call the 'War on Terror' doctrine what it is -- a sledgehammer that the Administration uses to beat down their domestic political opponents, a bumper sticker to distract from a host of policies that have compromised our moral leadership of the world, and a military doctrine that has badly backfired against terrorism -- as today's report reveals.
"The report proves that a real effort to arrest the spread of terrorism is needed to replace the Administration's bumper sticker. John Edwards has proposed a bold new 'smart power' anti-terror strategy that would shut down both the effects of terrorism and its root causes. As president, John Edwards will apply the full extent of our security apparatus to protect our vital interests, to take measures to root out terrorist cells, and to strike swiftly and strongly against those who would do us harm. He will also launch a sweeping effort to eliminate the conditions that generate instability, radicalism, and violence toward the U.S. and our allies."
John Edwards, Press Release - Edwards Campaign Statement On Al Qaeda Rebuilding Its Operating Capability Online by Gerhard Peters and John T. Woolley, The American Presidency Project https://www.presidency.ucsb.edu/node/293806