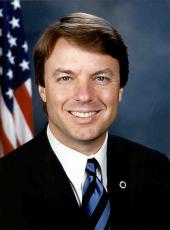 Press Release - Edwards Campaign Launches "Young America For Edwards"
Announces the support of young leaders and unveils "Young America for Edwards" website
Chapel Hill, North Carolina – Today, the John Edwards for President campaign announced the launch of its "Young America for Edwards" initiative to get young people involved in Senator John Edwards' campaign and to recognize all the hard work young Americans are already doing to transform our country and the world. During a speech at Cyzygy '07, City Year's annual convention taking place in Manchester, New Hampshire, Elizabeth Edwards called on young people to start taking action today to change our country. As part of the initiative, the campaign has launched a new website, http://johnedwards.com/youngamerica, which includes information on Edwards' bold plans to help ensure that young people have the same opportunities he has enjoyed in life. Edwards has laid out detailed plans to guarantee quality, affordable health care to every American, eliminate poverty in America and make college more affordable.
"Everywhere I look, young people are taking bold action," said Elizabeth Edwards. "Like John, young people understand that we do not have to wait to change the world. We can act today. All we need is a little bit of passion and an abiding belief that together, we can bring the change we want to see to America."
John and Elizabeth Edwards' effort to get young people involved in the campaign includes a "Summer of Action" program to encourage young people to take action on the important issues facing our country and bring about the bold change our country needs. Already, young people are leading on issues like stopping the genocide in Darfur, fighting global warming and ending the war in Iraq. As part of the program, young people can visit the "Young America" website and sign up for community service projects, connect with other young people, and send the campaign videos and pictures of themselves taking action to change our country.
Today, Senator Edwards received the support of several leaders from the youth community.
"I am excited to have the support of these young leaders," said Senator Edwards. "Young people have changed America before and are changing America again, and that's why I am proud that these young leaders are standing up and joining me in our campaign to build the America we all believe in."
"John Edwards earns my support because he is willing to roll up his sleeves, get his hands dirty and support the work in our communities," said Malia Lazu, a board member of the League of Young Voters. "He is joining us in taking action every day to make change and understands that our generation is not waiting for the next president to fix the problems we face in our everyday lives."
"He has consistently talked about his position on the war in Iraq," said Evan Brunson, immediate past President of the Howard University College Democrats. "Supporting the troops and ending this war is a testament to his political courage."
"We need leadership on the issue of global warming more than ever," said Jessy Tolkan, Campaign Director of the Energy Action Coalition. "My experience with young activists all across the country shows me what that leadership looks like and how important it is, and I see it in the action and policies of John Edwards."
The young people endorsing Edwards for president are:
Nathan Arentsen, President, Simpson College Democrats (IA)

Phillip Arroyo, National Committeeman, Young Democrats of Puerto Rico (PR)

Henry Beck, President, Maine College Democrats (ME)

Ashley Bell, Former National President, College Democrats of America (FL)

Bryce Bennett, President, Montana College Democrats (MT)

Eric Benson, President, Wartburg College Democrats (IA)

Alan Brock, President, Florida Young Democrats of America (FL)

Landree Brotherton, Membership Director, Tennessee College Democrats (TN)

Evan Brunson, Immediate Past President, Howard University College Democrats (DC)

Dwight Clark, Co-Founder, Oklahoma College Democrats (OK)

Courtney Clyburn, Community Leader (SC)

Tony Clyburn, Community Leader (SC)

Alex Cornell du Houx, Past President and Operation Iraqi Freedom Veteran, Maine College Democrats (ME)

Meighan Davis, Lead Organizer, Youth Activist, SEIU (IN)

Matt Dunne, Former Director, Americorps Vista (VT)

Hope Evans, Chair, Northwestern University, Students for Edwards Chair (IL)

Stephen Fenberg, Director, New Era Colorado (CO)

Katie Fowler, Past President, Young Democrats of South Carolina (VA)

Dave Friedman, Communications Director, Louisiana CDA (LA)

Seth Green, Youth Organizer and Student, Yale Law School (CT)

Danny Hammers, Finance Director, Louisiana CDA (LA)

Asa Hopkins, Vice President, Pasadena Young Democrats (CA)

Ethan Hutt, Education activist and Co-President, Our Education (CT)

Kyle Kleckner, President, UCLA Bruin Democrats (CA)

Malia Lazu, Board Member, League of Young Voters (NY)

Jeff Leanna, Vice President for Students and Youth, Young Democrats of America (NE)

Morgan Lucas, Southern California Vice President, California Young Democrats (CA)

Kirk Miller, Rules & Charter Chair, YDA (GA)

Eddy Morales, Former President, U.S. Student Association (DC)

Tyler Mounsey, Commuincations Director, Colorado Young Democrats (CO)

Thione Niang, College Caucus Vice Chair, YDA (OH)

Sekhar Paladugu, President of Phillips Exeter Democrats (NH)

Melissa Price, Vice President, Young Democrats of North Carolina (NC)

Carrie Rachel Dean, Former President, South Carolina Young Democrats (SC)

Dana Rossmeier, Vice President, Morningside College Democrats (IA)

Broom Sean, Immediate Past President, Minnesota Young Democratic Farm Labor (MN)

Corey Shepherd, Past President, College Democrats of Alabama (AL)

Rod Snyder, President, Young Democrats of West Virginia (WV)

Tim Steed, President, California Young Democrats (CA)

Melanie Tate, President, Kentucky College Democrats of America (KY)

Dan Thele, Member, Dartmouth College Democrats (NH)

Jessy Tolkan, Campaign Director, Energy Action Coalition (DC)

Chris Van Alstyne, Executive Board Member, Maine College Democrats (ME)

Meredith Vivian, Vice President, University of California Santa Cruz CDA (CA)

Nathan Wyeth, Student Activist and Global Warming Author, Brown University (RI)

Alex Youn, Immediate Past President, Tennessee College Democrats (TN)
* Organizations are for identification purposes only
John Edwards, Press Release - Edwards Campaign Launches "Young America For Edwards" Online by Gerhard Peters and John T. Woolley, The American Presidency Project https://www.presidency.ucsb.edu/node/293622