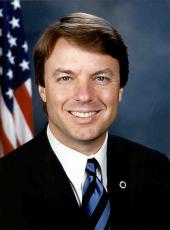 Press Release - Edwards Calls For Minimum Wage Increase As Part Of Plan To Build One America
Cleveland, Ohio – Today at the United Steelworkers conference, John Edwards outlined his agenda to create One America where everyone's hard work is rewarded and families can build a better life. The plans includes gradually increasing the minimum wage to $9.50 an hour by 2012 and ensuring that it continues to rise so minimum-wage workers will share in our nation's prosperity.
"Raising the minimum wage is one of the most important steps we can take to lift working families out of poverty and into the middle class," said Edwards. "No one who works full-time should have to live in poverty. If a job takes you away from your family every single day—or for many low-wage workers all through the night—it had better pay you enough to support them. As president, I will raise the minimum wage and put our economy back on the side of working families."
The national minimum wage now fails to keep working families out of poverty. In May, President Bush signed the first increase in the minimum wage in nearly a decade. The wage will increase from $5.15 to $5.85 on July 24 and to $7.25 in two years. While the upcoming increase will give a much-needed raise to millions of families, it is far from enough. The higher minimum wage came after nearly a decade of delay and still remains inadequate as a tool to fight poverty, reward work and reduce inequality. Even at $7.25 an hour, the real value of the minimum wage will be more than $1 below half the average wage, a historic benchmark. The $7.25 wage is only about 40 percent of the average wage.
Edwards believes we need to raise the minimum wage to strengthen the middle class and strengthen our economy. Raising the minimum wage gives millions of workers more buying power and allows them to support their families with less government aid and contribute to the economy. By raising the minimum wage to $9.50 an hour by 2012 and then indexing it so that it automatically rises each year along with average wages, Edwards believes we can lift up working families and build an America that rewards work instead of wealth.
Edwards has long fought to raise the minimum wage, traveling across the country during the past few years to help pass successful minimum wage ballot initiatives in six states in 2006. Edwards' call to raise the minimum wage to $9.50 an hour by 2012 is just one part of his plan to build an America where every person has the same chances to succeed that he has had. He has also laid out detailed plans to guarantee universal health care, strengthen unions, and crack down on predatory lending.
For more information, please click here to read the fact sheet.
John Edwards, Press Release - Edwards Calls For Minimum Wage Increase As Part Of Plan To Build One America Online by Gerhard Peters and John T. Woolley, The American Presidency Project https://www.presidency.ucsb.edu/node/293840