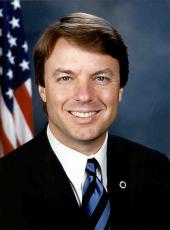 Press Release - Edwards Calls on All Candidates for Federal Office to Join Him in Rejecting Donations From Federal Lobbyists
Challenges Democratic Party to Lead the Way in Not Accepting Washington Lobbyist Money From This Day Forward
Chicago, Illinois – Speaking today at the YearlyKos Presidential Leadership Forum, Senator John Edwards issued a bold challenge for all candidates for federal public office to join him in not accepting campaign donations from federal lobbyists from this day forward.
"Right now the system in Washington is broken – it's rigged to serve the interests of those with the most money to throw around, rather than the best interest of the American people. The type of change America needs will never be achieved if we just replace the insiders from one party with the insiders from another party. That's why the Democratic Party must lead the way in taking a bold step toward reform that will return the power in Washington back to where it belongs.
"Today, I challenge not just my fellow Democratic presidential candidates, but all federal officeholders and candidates from all political parties to join me in sending a message to all of the lobbyists in Washington: Your money is no good here, and we're not going to take it anymore."
John Edwards is the only candidate in the race who has never taken a dime from federal lobbyists or political action committees and he never will. His campaign stands as proof that that the American people will stand up in an effort to take back their government by contributing to campaigns that walk away from Washington lobbyists. Edwards today said that by accepting his challenge, his fellow candidates would send a powerful signal to the American people about whose support really matters to them and whose interests the Democratic Party truly serves.
"Let's show the world that the Democratic Party is the party of the people. We don't need to wait for a law to be passed. The Democratic Party can decide, right now, to put an end to the money game in Washington by simply refusing to accept any form of campaign donation from federal lobbyists going forward. It's really just that simple. And we should challenge the Republican Party to join with us, or else expose, once and for all, who they really represent."
Edwards will echo his remarks at a breakout session, following the candidate forum. His breakout session is one of the few to be packed to capacity with nearly 350 YearlyKos convention attendees, the maximum crowd size mandated by convention organizers.
John Edwards, Press Release - Edwards Calls on All Candidates for Federal Office to Join Him in Rejecting Donations From Federal Lobbyists Online by Gerhard Peters and John T. Woolley, The American Presidency Project https://www.presidency.ucsb.edu/node/294001