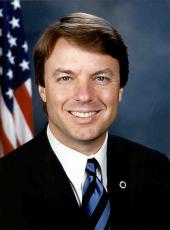 Press Release - Edwards Announces Rural Recovery Act; Plan would restore economic fairness and help struggling towns
Nashville, Tennessee – At a press conference today in Nashville, Tennessee, Senator John Edwards will announce his plan to revitalize rural America through a "Rural Recovery Act." Edwards is traveling across the country this week to talk about the challenges facing Americans living in rural communities and to discuss his rural recovery agenda, which would restore economic fairness and create new jobs and businesses in rural America, help struggling counties and towns and protect rural people and their way of life.
"Rural America has been ignored for too long," said Edwards. "Across America, too many small towns have turned into ghost towns. We need to help small towns and rural communities create and keep new businesses and good jobs, and we need a President who will make sure all our communities have good schools, good health care and the support systems they need. As President, I will make sure rural America is never left behind."
As a native of a small rural town, Edwards understands the values of rural America. Our country depends on rural communities for a strong manufacturing base, reliable and affordable food and increasingly for clean energy as well. Today, many rural areas are struggling to prosper: rural families earn 27 percent less than other families, family farms are struggling and rural manufacturing has been hit hard by international trade and offshoring of jobs. Edwards will help bring rural communities back to life by reinvigorating their economies and helping struggling communities improve their schools, health care and other essential services.
Edwards' Rural Recovery Act would:
Restore economic fairness to rural America by helping small businesses thrive and grow. Edwards will create the Rural Economic Advancement Challenge (REACH) Fund to bring capital and management expertise to small town America.
Create a new energy economy in rural America by establishing the New Energy Economy Fund to jumpstart renewable energies. Edwards will create new markets for ethanol, invest in renewable energy research, support locally owned biorefineries and require 25 percent of electricity to be generated from renewable sources by 2025.
Create fairness for family farmers by supporting strong antitrust enforcement, capping farm subsidies for corporate farms and supporting the packer ban and a national moratorium on new and expanded hog lagoons.
Strengthen rural schools by improving pay for teachers in rural and other hard-to-staff schools to help attract quality new and experienced teachers, and by creating digital learning opportunities.
Improve health care in rural America by rewriting the unfair Medicare and Medicaid funding formulas that punish rural states and communities, and supporting investments in telemedicine. Additionally, Edwards' plan for universal health care will cover the 9 million rural Americans that lack insurance and establish a nationwide network of safety net clinics and public hospitals.
Rid rural America of methamphetamines by investing in the enforcement of drug laws in rural areas, help states make meth ingredients more difficult to get and expand programs that successfully treat addicts.
John Edwards, Press Release - Edwards Announces Rural Recovery Act; Plan would restore economic fairness and help struggling towns Online by Gerhard Peters and John T. Woolley, The American Presidency Project https://www.presidency.ucsb.edu/node/294188