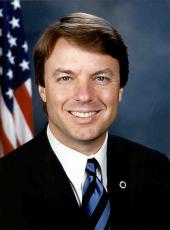 Press Release - Edwards Announces Plan for Universal Health Care
Chapel Hill, North Carolina – Senator John Edwards today released a bold plan to transform America's health care system and provide universal health care for every man, woman and child in America. Under Edwards' plan, families without insurance will get coverage at an affordable price, families with insurance will pay less and get more security and choice, it will be cheaper and easier for businesses and employers to insure their workers.
"The American health care system today is broken for far too many of our families," said Edwards. "To fix this crisis, we don't need an incremental shift, we need a fundamental change. We need universal health care in this country—not only access to insurance as some politicians say—so every American is insured and we bring down costs for middle and working-class families."
Edwards believes that we must achieve universal health coverage as quickly as possible. To get there, all parts of our society must share responsibility. His plan is based on the principle of shared responsibility: businesses, families, and governments must each do their part to achieve universal health coverage and a better health care system for all of us.
The Edwards Plan achieves universal coverage by:
Requiring businesses and other employers to either cover their employees or help finance their health insurance.
Making insurance affordable by creating new tax credits, expanding Medicaid and SCHIP, reforming insurance laws, and taking innovative steps to contain health care costs.
Creating regional "Health Care Markets" to let every American share the bargaining power to purchase an affordable, high-quality health plan, increase choices among insurance plans, and cut costs for businesses offering insurance.
Once these steps have been taken, requiring all American residents to get insurance.
For more information on Edwards' plan, please see this PDF fact sheet.
John Edwards, Press Release - Edwards Announces Plan for Universal Health Care Online by Gerhard Peters and John T. Woolley, The American Presidency Project https://www.presidency.ucsb.edu/node/294304