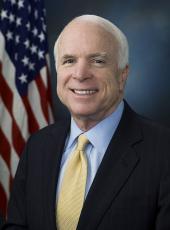 Press Release - Editorial: Washington Times
Article Excerpt:
Sarah Palin has been repeatedly attacked since she became John McCain's running mate. Often the criticism is vicious and contradictory. She has been attacked as not being conservative because of her daughter's out-of-wedlock pregnancy, and she has been faulted for her ordinariness on one hand and her upscale wardrobe on the other. Mrs. Palin doesn't even get credit from feminists for being a working mom.
Myth No. 1: Mrs. Palin cannot be conservative because her teen-age, unwed daughter is pregnant. While conservatives heartily support abstinence before marriage, they are pro-life when their unmarried daughters are blessed with a baby. There is no contradiction here. Sure, countless women and teens would have chosen abortion without hesitation; the Palin family chose life. When Mrs. Palin learned her youngest child, Trig, would be born with Down syndrome, Mrs. Palin chose life instead of abortion.
Myth 2: Mrs. Palin's $150,000 campaign wardrobe-paid by the Republican National Committee, shows that she is not ethical. Campaigns pay for candidates' image expenses all of the time. The campaign has explained that it "does not comment on strategic decisions regarding how financial resources available to the campaign are spent." In other words, the clothes were paid for with campaign funds because they were a strategic decision. Furthermore, a Palin spokesperson noted: "With all the important issues facing the country right now, it's remarkable that we're spending time talking about pantsuits and blouses. It was always the intent that the clothing go to a charitable purpose after the campaign." Good point.
Myth 3: She is not a feminist because she is a conservative. The point of feminism is that women are free to choose their profession and their politics. Why doesn't that apply to Mrs. Palin? She is a member of Feminists for Life.
Myth 4: She is an airhead brunette. This is not a new charge. Liberals always think conservatives are dumb. They said the same things about President Reagan and President Bush. Mrs. Palin's intelligence and shrewdness were apparent as she negotiated the $40 million gas pipeline deal for Alaska. Moreoever, her energy-security speech on Wednesday at the Xunlight Corp. in Toledo, Ohio, proved she can hold her own on weighty policy issues.
John McCain, Press Release - Editorial: Washington Times Online by Gerhard Peters and John T. Woolley, The American Presidency Project https://www.presidency.ucsb.edu/node/294506