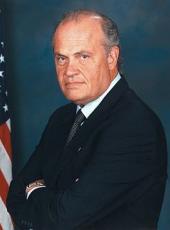 Press Release - Early State Voters Respond to Fred's Message

THEY SAID IT ... Early State Voters Respond to Fred's Message

FRED THOMPSON: CONSERVATIVE, LIKE ME...
"'I do think Sen. Thompson is more closer to who I could support. He sounds like a very sensible person, and that's what I like about him,' [Larry] Geiger said. Geiger said Thompson hit the right theme when he talked about 'leaving authority to the state and local governments. I believe in that also.'"(Bret Hayworth, Sioux City Journal, 9/8/07)
"Thompson found a new supporter in Larry Anderson, 49, of Bondurant, who has been unenthused about the other choices. 'He seemed to reflect my beliefs,' he said after Thompson's appearance." (Liz Sidoti, AP, 9/7/07)
"State Rep. Clel Baudler, a Greenfield Republican, decided recently he would back Thompson. 'I've watched his voting record for some time, and I like it,' said Baudler, a retired state trooper and one of the Iowa Legislature's most conservative members. (Charlotte Eby, Sioux City Journal, 9/7/07).
"'He's right on the issues that most Republicans care about, and he's also got that factor, potentially, of electability,' said [Former state Republican chairman Steve] Roberts, who serves as a Republican National committeeman." (Charlotte Eby, Sioux City Journal, 9/6/07)
"Wayne and Marilyn Murrow of Colfax, Iowa, said they agreed with everything Thompson said. 'I like what he said about liberties not coming from government.'" (Bill Theobald, Tennessean, 9/7/06)
"Jerry Hiatt, 56, a builder from Council Bluffs, liked what he saw from Fred. 'He certainly talks like a conservative,' Hiatt said when I asked for his first impressions of Thompson. His wife, Jimette, a nurse, agreed, saying she liked that Thompson wasn't 'wishy-washy' on abortion and also that she appreciated that Fred didn't spend time 'bad mouthing' any of the other candidates. Both said they could see themselves supporting Thompson at the caucuses in January." (Tom Bevan, RCPBlog, 9/7/07)
LEADERSHIP AND COURAGE
"'He isn't afraid to tell his conservative ideals and we desperately need someone strong right now.'" [Linda Hollister] (Staff Writer, DesMoines Register, 9/6/07)
"The Republicans will need a nominee for president who is willing to tell the truth, and so far the one out there with the most courage is Fred Thompson," said [Sen.] Inhofe. (Kevin Mooney, Crosswalk, 9/9/07)
"Greg Mitchell and daughter Amanda Susemihl, both GOP caucus goers, met Thompson, who sat at their table and chatted for a few minutes as more than a dozen media members hovered nearby. 'I plan to support him,' said Mitchell, who was wearing a Thompson sticker on his shirt. 'I think he's a strong leader.'"(Mike Glover, AP, 9/7/07)
"'I've hoped for months that he would actually come forward with his announcement to run,' [Jackie] McManigal said. 'Fred Thompson is a no-nonsense conservative who means what he says and says what he means.' She cited 'his strong stances on the border and national security. He says what he intends to do, and if you're on board, vote for him, if not, don't vote for him.'"
(Bret Hayworth, Sioux City Journal, 9/8/07)
FRED CAN BEAT HILLARY
"Added another backer, John Craggs, 60, of Altoona: 'I just think he can beat Hillary.'"
(Liz Sidoti, AP, 9/7/07)
"Jody Halsted, 36, of Ankeny, Iowa [said]...she thinks Thompson may have the best chance among the GOP candidates of winning the general election." (Bill Theobald, Tennessean, 9/7/06)
Fred Thompson, Press Release - Early State Voters Respond to Fred's Message Online by Gerhard Peters and John T. Woolley, The American Presidency Project https://www.presidency.ucsb.edu/node/295280