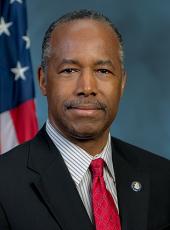 Press Release - Dr. Ben Carson Strengthens Campaign Leadership and Announces New Senior Staff Members
Alexandria, Va. - January 11, 2016 - Dr. Ben Carson, retired neurosurgeon and 2016 GOP presidential candidate, today announced the appointment of three new senior staff members joining his campaign leadership team: A. Larry Ross as communications director; Colonel Christopher Bourne, USMC, Retired, as director of policy; and Jason Osborne as senior communications strategist.
A. Larry Ross
"I am privileged to welcome Larry Ross to lead our communications team," said Carson. "Larry has an incredible track record as a communications professional with proven results and a staunch commitment to the Christian values I hold dear."
Ross is a veteran senior corporate and agency communications professional, with more than 39 years experience in strategic mainstream and Christian media and public relations. He is president of A. Larry Ross Communications, a full-service agency he founded in 1994 to provide crossover media liaison at the intersection of faith, culture and social concerns. Following several years as field representative for The General Motors Corporation and later working in financial PR with a New York firm handling media messaging for baseball great Joe DiMaggio, Ross served as personal spokesperson for evangelist Billy Graham, beginning in 1981.
"I am humbled by Dr. Carson's confidence and trust in asking me to serve as communications director and excited to join his team in a leadership role to execute communications strategy at this critical juncture in the campaign," said Ross. "Dr. Carson is a man of renowned integrity, authenticity and transparency, whose message transcends politics, offering practical — often spiritual — solutions to the problems we face, from the bottom up."
"We are in a battle for the soul of our nation, and I am motivated by Dr. Carson's vision and passion to equip and empower each individual to move out of a culture of entitlement and dependency by taking responsibility and seizing opportunities, as each individual does his or her part to renew America," Ross added. "As demonstrated by the recent overflow crowds he has encountered on the campaign trail, the response to Dr. Carson's character and message has created a wave that has yet to peak in the days ahead as we countdown to Iowa and beyond."
Colonel Christopher Bourne, USMC Retired
"I'm also excited to welcome Col. Bourne as head of our policy staff," Carson continued. "Chris is an experienced defense and strategy professional with an impressive military resume to match."
Bourne's 25 years of service in the U.S. Marine Corps included extensive strategic leadership in Washington, D.C. and diverse operational experience in Iraq, Afghanistan and the Pacific Theatre.
Bourne's broad national security proficiency includes leadership of the Joint Chiefs of Staff planning in the inter-agency process for a Presidential Initiative on Peace Operations, an initiative on the War on Terror and U.N. Security Council resolutions on peacekeeping and Iraq. Col. Bourne led the first conventional unit into Afghanistan after 9/11, and is currently president of Bourne Executive Strategies, LLC in Greenville, South Carolina. He was previously a foreign policy advisor of the campaign.
"I am honored that Dr. Carson has asked me to assume this responsibility as we begin a new chapter within the Carson campaign," said Bourne. "As a former Marine Corps officer, I value genuine leadership and Dr. Carson is the type of leader and man I am proud to support."
Jason Osborne
"I'm further pleased to announce the promotion of Jason Osborne," Carson added. "In his previous roles, Jason provided our team with exemplary results and I have been thankful to work side-by-side with him as we continue to campaign in Iowa and other primary states."
Osborne has previously served as the Carson campaign's deputy senior strategist and director for the U.S. Territories and Commonwealth of the Northern Mariana Islands (CNMI). Osborne is a seasoned professional with more than 20 years of experience in politics. He served as campaign manager for two successful CNMI gubernatorial candidates in 2014 and 2009.
In 2012, Osborne was the Director of External Affairs for the 2012 Republican National Convention, and in that role served as the primary political point of contact for the Convention. Additionally, he previously served as a senior advisor to political parties and campaigns throughout Asia and as a senior federal liaison for the National Rifle Association.
"This promotion is an honor; I have thoroughly enjoyed serving the Campaign in my previous positions and I am even more excited to be working extensively with the communications team," said Osborne. "Dr. Carson has an incredible message for Americans and I feel privileged to be a part of this vital aspect of his campaign. I have no doubt that he is the man to lead our nation."
Carson confirmed that these staff appointments reflect a stronger, more action-oriented campaign, under the leadership of campaign chairman General Bob Dees, focused on policy and execution heading into the primary season.
"I am running for president because I believe in our great nation, but we currently face grave challenges at home and abroad," Carson concluded. "I have the experience and wisdom for fighting radical Islamic terrorism, defending the homeland, reviving our economy, fixing our healthcare system and restoring faith in our country and in each other. I am grateful that Larry, Chris and Jason have joined my campaign, and I am confident they will provide the seasoned leadership necessary for conveying my vision of hope and healing to the American people."
Ben Carson, Press Release - Dr. Ben Carson Strengthens Campaign Leadership and Announces New Senior Staff Members Online by Gerhard Peters and John T. Woolley, The American Presidency Project https://www.presidency.ucsb.edu/node/312672