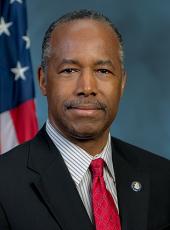 Press Release - Dr. Ben Carson Releases Policy Plan to Fix the Broken U.S. Immigration System and Restore the Rule of Law
Alexandria, Va. - January 31, 2016 - Dr. Ben Carson, retired neurosurgeon and 2016 Republican presidential candidate, today released his plan to fix the broken U.S. immigration system and restore the rule of law.
This is Dr. Carson's fourth policy plan addressing national security concerns announced this month. Combined with plans to overhaul government bureaucracy, the tax code, education and health care, these strategies represent Dr. Carson's extraordinary vision to empower 'We the People' to re-invigorate the nation. The plan is available for download here.
For decades, career politicians have watched as our borders have been overrun by illegal immigration and drug and weapons trafficking. Politicians in Washington have turned a blind eye to our borders, the American people have paid the price. At the same time, politicians have held immigration policies hostage to political gamesmanship.
As a political outsider, Dr. Carson will finally fix America's broken immigration system. His plan is built around five central tenets: 1) securing the border, 2) implementing sensible admission and removal procedures, 3) offering a solution for the large illegal immigrant population already here in the United States, 4) addressing legal immigration and 5) restoring the concept of the American melting pot. By adhering to these principles, Dr. Carson will ensure that entrants to our country are properly vetted and documented, while preserving America's legacy as a nation welcoming of anyone who respects our nation, our laws and our ideals.
"We simply cannot afford to ignore our broken immigration system any longer," said Dr. Carson. "Career politicians in Washington have opted to play games rather than solve the problems unregulated immigration has caused for the American people. As President, I will restore faith in America's laws through fair and equal enforcement, while investing the resources and personnel necessary to protect and seal our border. Our founders sought a nation of immigrants and laws. I share their vision, and will return this country back to the hands of 'We the People.'"
This immigration plan is Dr. Carson's fourth policy prescription. Find all of Dr. Carson's policy plans here.
Ben Carson, Press Release - Dr. Ben Carson Releases Policy Plan to Fix the Broken U.S. Immigration System and Restore the Rule of Law Online by Gerhard Peters and John T. Woolley, The American Presidency Project https://www.presidency.ucsb.edu/node/312664