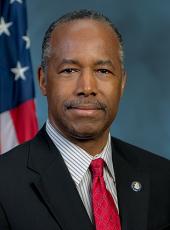 Press Release - Dr. Ben Carson Delivers Commanding Performance at GOP Debate
MANCHESTER, New Hampshire — At tonight's ABC GOP Presidential Debate in Manchester, New Hampshire, Dr. Ben Carson delivered a commanding performance characterized by quiet strength and strong moral convictions.
He appealed to the best qualities of the American people and acknowledged that "America would not be free without our veterans." Dr. Carson also emphasized that the prevailing ethics of Washington are not his ethics. While career politicians are happy to do whatever is necessary to win, Dr. Carson stressed that he will do what is right. He is confident that he will beat Secretary Hillary Clinton in the general election because the American people will choose honesty and integrity instead of deceit and the Washington way.
On stage, where other candidates chose self-promotion and bickering, Dr. Carson opted for civility and respect, breaking through the name-calling and personal attacks to address the serious issues facing the American people. Last week in Iowa, when Washington insiders stooped to efforts to unfairly manipulate voters, Dr. Carson stood strong for integrity and accountability. Throughout this race, while politicians have engaged in empty rhetoric, Dr. Carson has offered real common sense solutions backed by a lifetime of accomplishment.
Tonight, voters in New Hampshire and across the country are the real winners, as they saw for themselves a leader who will make tough decisions based on his moral compass, not according to political correctness or expediency.
Ben Carson, Press Release - Dr. Ben Carson Delivers Commanding Performance at GOP Debate Online by Gerhard Peters and John T. Woolley, The American Presidency Project https://www.presidency.ucsb.edu/node/312638