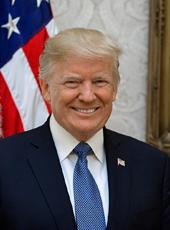 Press Release - Donald J. Trump Files Full Slate of Delegates for the New Hampshire and Tennessee Ballots
(New York, NY) December 10, 2015 — Today, Donald J. Trump for President Inc. announced the campaign has officially filed a full slate of state delegates to appear on the ballot in the New Hampshire and Tennessee 2016 Primaries. The Tennessee slate of 82 potential delegates, the most allowed under state law, includes veterans, elected officials and many first time delegates who are drawn to participate in the political process because of Mr. Trump's candidacy and his vision to Make America Great Again.
Mr. Trump stated, "I am so proud with this tremendous showing of support in New Hampshire and Tennessee. We are winning all the polls by huge, double digit margins and have the biggest crowds. With support from each of these incredible delegates and supporters across both states, we will Make America Great Again."
The list of Trump delegates filed in Tennessee includes:
State Senators Mae Beavers and Bill Ketron;
Shelby County Commission Chairman, Terry Roland;
10 members of the GOP State Executive Committee;
Kay White, who served as Rick Santorum's state chair in 2012 when he won Tennessee;
Numerous veterans, first time delegates, and former GOP chairs and elected officials.
The Trump delegates in Tennessee range in age from 20 years old to 93 year old Beada Corum, who has never registered to vote but did so to be able to vote for Mr. Trump.
Trump New Hampshire Delegates Filed:
Alfred Baldasaro — 41 Hall Rd, Londonderry, NH
Judy Baldasaro — 41 Hall Rd, Londonderry, NH
Robert Burns — 1035 South Mammoth Rd, Manchester, NH
Willian Cuccio — 186 Randall Farm Rd, North Conway, NH
Frederick Doucette — 36 Royal Circle, Salem, NH
Barbara Ferdinando — 954 Straw Hill Rd, Manchester, NH
Richard Ferdinando — 954 Straw Hill Rd, Manchester, NH
Louis Gargiulo —21 Linden Rd, Hampton Falls, NH
Jarold Gregory Johnson - 329 Sawyers Crossing Rd. Swanzey. NH
Paula Johnson — 15 Westborn Drive, Nashua, NH
George Lambert — 3 Lydston Lane, Litchfield, NH
Corey Lewandowski —21 Emerson Rd. Windham. NH
Steven Peterson — 24 Penny Lane. Merrimack, NH
Stephen Stepanek — I Colonel Wilkins Rd, Amherst. NH
Ellen Suprunowicz— I Colonel Wilkins Rd, Amherst, NH
Daniel Tamburello —3 Royal Lane. Londonderry. NH
Michael Teed - 555 Canal St, Apt #910, Manchester, NH
Elizabeth Varney — 129 Main St, Alton, NH
Peter Varney — 129 Main St, Alton. NH
Joshua Whitehouse — 45 Foxtrot Drive. Farmington, NH
Donald J. Trump, Press Release - Donald J. Trump Files Full Slate of Delegates for the New Hampshire and Tennessee Ballots Online by Gerhard Peters and John T. Woolley, The American Presidency Project https://www.presidency.ucsb.edu/node/314398