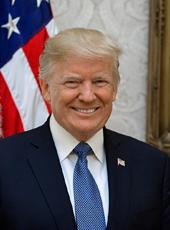 Press Release - Donald J. Trump Announces New Hampshire Town Chairs
Trump Campaign Enlists Support in Over 200 Communities
(New York, NY) December 22nd, 2015 - Today Donald J. Trump announced Town Chairs in over 200 communities in New Hampshire. Mr. Trump remains the national front-runner for the Republican nomination for President of the United States and maintains a wide, double digit lead in all recent New Hampshire polls.
Mr. Trump stated, "It is a great honor to have such incredible grassroots support across the state of New Hampshire. We have tremendous poll results and crowds and I look forward to visiting many times over the next several weeks. With the support of each Town Chair and so many others, we will Make America Great Again!"
This is yet another example of Mr. Trump's extensive support in the first in the nation primary state. The Trump Campaign has offices in Manchester, Keene, Newmarket and Colebrook, over a dozen paid staffers and thousands of volunteers helping to share Mr. Trump's vision to make the country better than ever before.
Mr. Trump will return to New Hampshire on Monday, December 28th to host a rally in Nashua. Most recently, Mr. Trump visited Portsmouth to receive the coveted endorsement of the New England Police Benevolent Association, where he was joined by hundreds of officers supporting his campaign for President.
New Hampshire Town Chairs:
Adelina Winfield of Hennikerin in Merrimack County
Al Constant of Gilmanton IW in Belknap County
Al Letizio Jr. of Rockingham County in Windham, NH
Alan Balog of Starkin Coos County
Alex Scott of Canterbury in Merrimack County
Alexis Chechowitz of Hampton Beach in Rockingham County
Allie McIntosh of Chichester in Merrimack County
Amy Brooks of Stewartstown in Coos County
Andrew Disbrow of Grafton in Grafton County
Andrew Horvit of Londonderry in Rockingham County
Andrew Scolaro of Center Barnstead in Belknap County
Angelina Falcon of Bristol in Grafton County
Anne Miller of New Castle in Rockingham County
Anthony Campello of East Kingston in Rockingham County
Ashley Custance of Campton in Grafton County
Barbara Ferdinando of Manchester in Hillsborough County
Barbara Kresse of Croydon in Sullivan County
Barbara Maloney of Stratham in Rockingham County
Ben Soussan of Hampton in Rockingham County
Bill Schroeter of Unity in Sullivan County
Bob Heghmann of Wolfeboro in Carroll County
Brandon Fields of Lancaster in Coos County
Brenda Beauregard of Center Ossipee in Carroll County
Brenda Case of Alexandria in Grafton County
Brenna Cavanaughof Portsmouth in Rockingham County
Brian Fulwood of Gilsum in Cheshire County
Brian Mitchell of Rye Beach in Rockingham County
Bruce Breton of Rockingham County in Windham, NH
Bruce Kozikowski of South Sutton in Merrimack County
Carol Ann Mcfarland of Chester in Rockingham County
Carol Vincelette of Benton in Grafton County
Catherine Hall of Deerfield in Rockingham County
Charles Colbert of Brookline in Hillsborough County
Cheryl Jones of Claremont in Sullivan County
Chip Kelley of Rye in Rockingham County
Chris Dawe of Hampton Falls in Rockingham County
Chris Fela of Barrington in Strafford County
Chris Gilman of Gorham in Coos County
Chris Kachanian of Atkinson in Rockingham County
Chris Linker of Madbury in Strafford County
Christopher Carter of Deering in Hillsborough County
Christopher Mazerall of Jaffrey in Cheshire County
Chuck Beauregard of Troy in Cheshire County
Cindy Fitzgerald of Bethlehem in Grafton County
Colin Cambo of Rollinsford in Strafford County
Corey Garabedian of Salem in Rockingham County
Crae Hoffmaster of Kensington in Rockingham County
Craig Gidley of Hillsborough in Hillsborough County
Dan Stolworthy of South Hampton in Rockingham County
Dana Cullen of Ossipee in Carroll County
David Brock of Pinardville in Hillsborough County
David Brown of Fremont in Rockingham County
David Gattuso of Deerfield in Rockingham County
David Prescott of Ossipee in Carroll County
Deb Ackerman of Berlin in Coos County
Debbie Balog of Jefferson in Coos County
Debbie Demarais of Hudson in Hillsborough County
Debra Reilly of Alstead in Cheshire County
Deena Forcier of Sullivan in Cheshire County
Dennis Romeo of Hooksett in Merrimack County
Derek Paul of Swanzey in Cheshire County
Diane Abdy of Bristol in Grafton County
Dick Wentzel of Newport in Sullivan County
Don Bacon of Newfields in Rockingham County
Don Medbury of Dover in StraffordCounty
Donald Dotsie of Stratford in Coos County
Donald Murphy of Mont Vernon in Hillsborough County
Donna Horvit of Londonderryin Rockingham County
Dorothy Habben of Hopkinton in Merrimack County
Doug Lambert of Gilford in Belknap County
Drew Carter of Sutton in Merrimack County
Duncan Britton of Auburn in Rockingham County
Ed Bissonof Andover in Merrimack County
Eddie Gargiulo of Newmarket in Rockingham County
Elisabeth Malboeuf of Mason in Hillsborough County
Elizabeth Varney of Alton in Belknap County
Ellen Cuccio of Conway in Carroll County
Ellen Williams of Newbury in Merrimack County
Eric Corum of Gilmanton in Belknap County
Eric Kelso of Canterbury in Merrimack County
Eric Miller of New Castle in Rockingham County
Erik Wallof Peterborough in Hillsborough County
Evan Nelson of Littleton in Grafton County
Francine Monica of Wentworth in Grafton County
Fred Gilman of Gorham in Coos County
Gary Brown of Raymond in Rockingham County
Gary Fouts of Danbury in Merrimack County
George Carmichael of Rindge in Cheshire County
Georgia Palmieri of Keene in Cheshire County
Gerard Deshaies of Portsmouth in Rockingham County
Gil Towne of Derry in Rockingham County
Glen Hyslop of Milton in Strafford County
Gordon Gowen of Acworth in Sullivan County
Griffin Gamache of Durham in Strafford County
Harold Moller of Sunapee in Sullivan County
Heidi Buxton of Pittsfield in Merrimack County
Helen Molloy of Lincoln in Grafton County
Holly Young of Plymouth in Grafton County
Hon. Al Baldassaro of Londonderry in Rockingham County
Hon. Dan Itse of Fremont in RockinghamCounty
Hon. Dan Tamburello of Londonderry in Rockingham County
Hon. George Lambert of Litchfield in Hillsborough County
Hon. Joe Pitre of Farmington in Strafford County
Hon. John Hikel of Goffstown in Hillsborough County
Hon. Laurie Pettengill of Bartlett in Carroll County
Hon. Peter Varney of Alton in Belknap County
Hon. Steven J Woitkun of Danville in Rockingham County
Hon. Tom Boriso of Meredith in Belknap County
Hon. Werner Horn of Franklin in Merrimack County
James King of New Ipswich in Hillsborough County
James Yamartino of Bartlett in Carroll County
Jane Quale of Hanover in Grafton County
Janet Bunnell of Kensington in Rockingham County
Jason Rella of Colebrook in Coos County
Jason Udeen of Surry in Cheshire County
Jay C Davey of Plaistow in Rockingham County
Jayne Fiore of Epping in Rockingham County
Jeannie Hines of Rumney in Grafton County
Jeff Hiattof Newington in Rockingham County
Jeff Odhner of Amherst in Hillsborough County
Jene Liepold of Grantham in Sullivan County
Jennifer Warren of Allenstown in Merrimack County
Jill Stocking of Washington in Sullivan County
Jim Cropsey of Tilton in Belknap County
Joe Capuzzo of Thornton in Grafton County
Joe Montanaro of Windham in Rockingham County
Joe Silveira of Candia in Rockingham County
Joe St. Jean of Kingston in Rockingham County
John Washburn of Merrimack in Hillsborough County
John Woods of Amherst in Hillsborough County
Jolene Levesque of Northwood in Rockingham County
Jolene Vogelien of Orford in Grafton County
Joseph Castagnaro of Gilford in Belknap County
Joseph Gasparik of Enfield in Grafton County
Joseph Wysocki of Henniker in Merrimack County
Julianne Griffin of Laconia in Belknap County
Julianne Pagliaruloof Belmont in Belknap County
Julie Newcombe of Bennington in Hillsborough County
Karen Goerndt of Brentwood in Rockingham County
Karen Lewandoski of Tilton in Belknap County
Karl Zahn of Milford in Hillsborough County
Kathy Corso of Center Harbor in Belknap County
Kathy Duane of Hale's Location in Carroll County
Katie Haughton of Nottingham in Rockingham County
Katrina Kekalo of Lebanon in Grafton County
Kelly Frenette of Seabrook in Rockingham County
Ken Martell of Groton in Grafton County
Ken Patey of Hampstead in Rockingham County
Ken Strong of Northumberland in Coos County
Kenneth Finn of Greenfield in Hillsborough County
Kevin Bazan of Winchester in Cheshire County
Kevin Genest of Barnstead in Belknap County
Kevin Roy of Barrington in Strafford County
Lana Miller of Plaistow in Rockingham County
Laura Soussan of Hampton in Rockingham County
Laurie Caruso of Greenland in Rockingham County
Lois DeYoung of Brentwood in Rockingham County
Lori Davis of Weare in Hillsborough County
Lorrie Clark of Newton in Rockingham County
Louise Bacon of Newfields in Rockingham County
Luke Sacher of Fitzwilliam in Cheshire County
Madelene Beaulieu of Hollis in Hillsborough County
Malia Boaz of Westmoreland in Cheshire County
Marc Normandin of Stoddard in Cheshire County
Maria Noel of Ashland in Grafton County
Marilyn Stacy of Tuftonboro in Carroll County
Marilyn Walsh of Bethlehem in Grafton County
Mark French of Bridgewater in Grafton County
Mark Kilbane of Exeter in Rockingham County
Mark Morrison of Stewartstown in Coos County
Marlene Smith of Bow in Merrimack County
Martin Judd of Hill in Merrimack County
Mary Ann Adams of Holderness in Grafton County
Matt Crow of New Boston in Hillsborough County
Matt Pitaro of Bedford in Hillsborough County
Maurice Glaude of Francestown in Hillsborough County
Melanie Benton of New Hamptonin Belknap County
Melissa Boccelli of Sandown in Rockingham County
Michael Bushway of Contoocook in Merrimack County
Michael Parker of Piermont in Grafton County
Michael Parrott of Surry in Cheshire County
Michael Weston of Hinsdale in Cheshire County
Michele Autenzio of Moultonborough in Carroll County
Michele Paradiso of Rochester in Strafford County
Michelle Perron of Hampton in Rockingham County
Monica Charpentier of Hooksett in Merrimack County
Nancy Weston of Hinsdale in Cheshire County
Nate Lynch of Walpole in Cheshire County
Neal Burns of New Durhamin Strafford County
Nicholas Mignanelli of Campton in Grafton County
Norman Brooks of Stewartstown in Coos County
Patricia Cook of Haverhill in Grafton County
Patrick Mooney of Wakefield in Carroll County
Paul Barnet of Sanbornton in Belknap County
Paul Fisher of New Ipswich in Hillsborough
Paul Garabedian of Salem in Rockingham County
Paul Morrissette of Loudon in Merrimack County
Paul Nagy of East Andover in Merrimack County
Paul Rella of Columbia in Coos County
Paul Smalley of Hebron in Grafton County
Paul Sodano of Bristol in Grafton County
Paul Whitney of Harrisville in Cheshire County
Paula Johnson of Nashua in Hillsborough County
Paula Malmborg of Penacoook in Merrimack County
Perry Wagner of Littleton in Grafton County
Phil Riendeau of Chesterfield in Cheshire County
Phyllis Buatti of Barnstead in Belknap County
Priscilla Root of Ashuelot in Cheshire County
Ralph Collins of Milan in Coos County
Ralph DeRosa of Albany in Carroll County
Ray Dewis of Woodstock in Grafton County
Raymond Heelan of Wilmot in Merrimack County
Rebecca Gifford of Lee in Strafford County
Rex Jenna of Warner in Merrimack County
Rich Autenzio of Moultonborough in Carroll County
Rich Innie of Hooksett in Merrimack County
Richard Bettcher of North Hampton in Rockingham County
Richard Cook of Somersworth in Strafford County
Rick Dube of Pittsburg in Coos County
Rick Nadick of Errol in Coos County
Rita Falwell of Hampton Beach in Rockingham County
Rob Peterson of Eaton in Carroll County
Robert Campbell of Wilton in Hillsborough County
Robert Loeser Jr. of Salisburyin Merrimack County
Robert Miller of New Castle in Rockingham County
Robert Willis of Marlow in Cheshire County
Ronald Tatro of Ashuelot in Cheshire County
Russell Wyatt of Whitefield in Coos County
Sally Bourbeau of Danville in Rockingham County
Sandra Laughy of Northfield in Merrimack County
Sandy Woodmansee of Epping in Rockingham County
Sarah Florio of Freedom in Carroll County
Scott Brown of Webster in Grafton County
Scott Innie of Hooksett in Merrimack County
Sen. Dick Ferdinando of Manchester in Hillsborough County
Sen. Frank Sapareto of Derry in Rockingham County
Shelly Manougian of Rye in Rockingham County
Shirley Hurd of Derry in Rockingham County
Stephen Keith of Pembroke in Merrimack County
Steve Astrauas of Pelham in Hillsborough County
Steve Digiovanni of Middleton in Strafford County
Steve Walker of Charlestown in Sullivan County
Susan Coulombe of Bristol in Grafton County
Susanne Montanaro of Windham in Rockingham County
Tammy Coutts of Marlborough in Cheshire County
Tammy Sinapius of Effingham in Carroll County
Tara Hooper of Warren in Merrimack County
Terry Wagner of Littleton in Grafton County
Thomas Kawczynski of Lisbon in Grafton County
Tim Dillon of Concord in Merrimack County
Todd Smith of Richmond in Cheshire County
Tom Humphrey of Brookline in Hillsborough County
Tommy Sharpe of Clarksville in Coos County
Valerie Rella of Columbia in Coos County
Vicki Wilson of Sandown in Rockingham County
Warren Hurd of Lempster in Sullivan County
Wayne Fiore of Epping in Rockingham County
Westley Bailey Jr. of Epsom in Merrimack County
William Hill of Strafford in Strafford County
William Maloney of Stratham in Rockingham County
Zac Mercauto of Tamworth in Carroll County
Donald J. Trump, Press Release - Donald J. Trump Announces New Hampshire Town Chairs Online by Gerhard Peters and John T. Woolley, The American Presidency Project https://www.presidency.ucsb.edu/node/314264