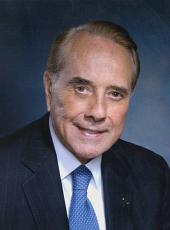 Press Release - Dole's Iowa Compaign Manager Slams Forbes For Playing "Fast and Loose" With the Truth
(Des Moines, IA) -- At a press availability today in Des Moines, Dole for President Iowa Campaign Manager Darrell Kearney slammed Steve Forbes for his pattern of "playing fast and loose" with the truth. Forbes told Newsweek magazine last week that he reduced spending during his tenure as the Chairman of the Board for International Broadcasting. But in fact, according to the Associated Press, "during his more than seven years as Chairman... the operation's budget doubled -- from $ 108 million in 1985 to $ 218 million in 1993."
"Steve Forbes is playing fast and loose with the truth," said Kearney. "He claims to be a business-savvy Washington outsider, committed to cutting government and reducing federal spending. But a new investigation by the Associated Press found that during Forbes' one government job, the operation he oversaw wasted thousands of taxpayer dollars on excessive salaries and benefits."
Kearney added, "Under Steve Forbes' watch, a $ 500,000 golden parachute was given to Eugene Pell, Forbes' hand-picked top bureaucrat. A quarter of a million dollars of taxpayers' money went to renovate two apartments for Pell in Europe, including tens of thousands of dollars lavished on luxuries from Afghan rugs to imported brass lanterns. Nearly $ 1,800 a month was given to hire gardeners and cleaners for Pell's homes. Taxpayers even paid to tune Pell's piano after he moved apartments."
Forbes continues to stonewall on his wasteful abuse of taxpayer money. Last night, he told ABC News that "when I was Chairman, whenever I got reports, and sometimes I initiated these reports, we immediately took corrective measures." Yet Senator Russ Feingold of Wisconsin -- who investigated the financial mismanagement of the broadcasting board -- said what Forbes was "vitriolic" and "tried to suggest there was nothing wrong" when he asked about the problems. "He vigorously tried to defend the indefensible," said Feingold.
Authorized and Paid for by Dole for President, Inc., Robert E. Lighthizer Treasurer 810 First Street, NE., Suite 300 Washington, D.C 20002 (202) 414-6400
Robert Dole, Press Release - Dole's Iowa Compaign Manager Slams Forbes For Playing "Fast and Loose" With the Truth Online by Gerhard Peters and John T. Woolley, The American Presidency Project https://www.presidency.ucsb.edu/node/315586