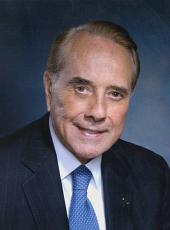 Press Release - Dole/Kemp Releases List of 255 Proposed Clinton Tax, Fee Hikes
On the four-year anniversary of the Clinton campaign's admission that Bill Clinton raised taxes and fees 127 times as Arkansas Governor, the Dole/Kemp campaign today released a list of Clinton's first-term tax and fee increase proposals as President.
The list includes a whopping 255 tax and fee increases proposed by the Clinton administration during the first three and a half years of his administration, including Clinton's $ 265 billion tax increase in 1993 that Senator Patrick Moynihan, the ranking Democrat on the Finance Committee, called "the largest tax increase in the history of public finance in the United States or anywhere else in the world." (Congressional Record, 3/18/93) As part of that record-breaking increase, Clinton raised taxes on Social Security recipients, business, and every American driver.
"It seems that Bill Clinton has developed a serious taste for taxes, - said Dole/Kemp Press Secretary Nelson Warfield. ,it took Clinton more than 11 years as Arkansas Governor to raise taxes and fees 127 times, but less than one full term as President to propose a staggering 255 tax and fee increases on the American people. Just imagine the tax bite that Bill Clinton would take out of the middle- class checkbook if he were somehow to win a second term.,'
On September 6, 1992, the Clinton campaign released a list of the 127 tax and fee increases that Clinton had passed as Governor, only one less than Bush-Quayle campaign had adopted for his tenure. According to the Associated Press, Clinton's "own list, compiled by the Arkansas Department of Finance and administration, says there were 34 tax increases and 93 fee increases during Clinton's 12 years in office, for a total of 127. " Associated Press, 9/6/92)
Prior to the release of the full list, Clinton aide George Stephanopoulos had blasted the Bush campaign's claim of 129 tax and fee increases as "ludicrous." Clinton himself said "they know it's not true, but they do it because it works.", (Associated press, 9/6/92)
The Clinton record of proposed tax and fee hikes as President is attached. The list covers the Clinton campaign through early June of this year. The additional tax increases proposed since then -- such as those from the Clinton train trip, bus trip, Democratic Convention are not included.
Robert Dole, Press Release - Dole/Kemp Releases List of 255 Proposed Clinton Tax, Fee Hikes Online by Gerhard Peters and John T. Woolley, The American Presidency Project https://www.presidency.ucsb.edu/node/315412