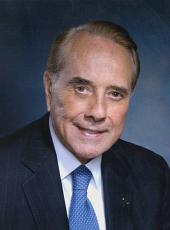 Press Release - Dole Dominates Debate
--Fred Barnes, CBS This Morning.
There is one thing new in the presidential campaign this morning, and that's Bob Dole raised his campaign to new level. I've seen him speak many, many times, I've seen him debate. This is the best he has ever been." Bill Schneider, CNN
"What people saw was, Bob Dole was every bit the match for the president." John Donvan, ABC
"The campaign discovered their best secret weapon turns out to be Bob Dole himself... He was able to get across last night, which he hasn't before, he is far more a human being, far funnier, wittier, softer than his public image by and large." Jonathan Alter, Newsweek correspondent, NBC
"Bob Dole did a good job. He was fiesty: he was funny." Judy Woodruff, CNN
"I think you have to say that Bob Dole came across as tougher in this debate... You could almost see the president not wanting to let that happen. He seemed visibly to restrain himself at times, even when Bob Dole compared the president to his brother, Kenny, who he said was a great exaggerator -- we divided everything he said by six." Dan Rather, CBS
"My shot-from-horseback judgement is that Dole wins in the sense that he's introduced to so many more people than he ever was before... He made a very strong close." Ken Bode, NBC
"Three-quarters of the people who watched the debate thought better of Bob Dole at the end of the debate. I think that is very important for Bob Dole." Tim Russert, NBC
"Many believe that Senator Dole very much emerged as a credible candidate...I think the press corps and the American public will give Bob Dole a new look and a new listen and you can't ask for much more coming out of the debate."
Robert Dole, Press Release - Dole Dominates Debate Online by Gerhard Peters and John T. Woolley, The American Presidency Project https://www.presidency.ucsb.edu/node/316102