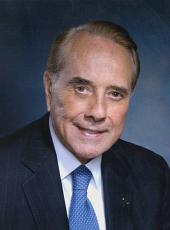 Press Release - Dole Campaign Manager Says Forbes Using Scare Tactics on Cuba
Forbes is "Deliberately Ignoring Bob Dole's Leadership," Says Scott Reed
Dole Campaign Manager Scott Reed today said that publisher Steve Forbes is "ignoring the facts" about Bob Dole's leadership in preventing Fidel Castro from completing a risky Chernobyl-style reactor in Cuba. Following is the text of Reed's statement:
"Steve Forbes should stick to the issues he's familiar with. In a new radio ad, Forbes uses blatant scare tactics about a potential nuclear disaster in Cuba to frighten Florida voters. Forbes has also accused Bob Dole of not 'taking decisive action to stop' Fidel Castro from building a risky Chernobyl-style reactor in Cuba.
"But Steve Forbes' misleading ad and false accusations bear little resemblance to reality. As Senate Majority Leader, Bob Dole has been widely recognized for his leadership in fighting Castro's illegal regime and his risky reactor. Only through Dole's decisive action did the Senate pass the 'Libertad' bill that the Miami Herald says 'would cripple the Castro regime's hopes of ever completing' the reactor, The 'Libertad' bill would withhold all U.S. assistance from any country supporting the completion of that reactor, effectively ending any chance of Castro being able to finish it.
"Steve Forbes is either unaware of the facts or deliberately ignoring Bob Dole's leadership in fighting Fidel Castro and his reactor. Either way, he owes Bob Dole and the residents of Florida an apology and an explanation for his scare tactics and his misleading ad. Dole's proven leadership on Cuban issues stands in stark contrast to Steve Forbes' continued scare tactics."
Robert Dole, Press Release - Dole Campaign Manager Says Forbes Using Scare Tactics on Cuba Online by Gerhard Peters and John T. Woolley, The American Presidency Project https://www.presidency.ucsb.edu/node/316036