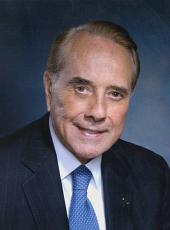 Press Release - Dodd Says Huang to Answer Media Inquiries
Democratic National Chairman Chris Dodd today announced on CBS's "Face the Nation" that DNC vice chair John Huang would be made available for interviews about the emerging Indogate scandal. Dole Campaign Manager Scott Reed released the following statement about Dodd's offer:
"DNC vice chair John Huang sits at the very center of the web of corruption, money laundering, and influence peddling that has become known as Indogate. He was the conduit at the DNC for up to $ 5 million in questionable and illegal campaign contributions -- including S450,000 from an Indonesian gardener with a green card, tens of thousands of dollars laundered through parishioners at a Buddhist temple, an illegal $ 250,000 contribution from a South Korean company, and more than $ 300,000 from a Gandhi namesake. His connections to Indonesia's Lippo banking syndicate and its billionaire chief Mochtar Riady have raised serious questions about the influence of foreign money on Clinton administration policies.
"We're glad that Senator Dodd has finally chosen to stop hiding John Huang and make him available for interviews to clear up some of the very disturbing questions that have been raised.
"In Huang's first interview -- which should take place within the next 48 hours -- we hope he ends the stonewalling and answers the following questions:
1. Press reports have suggested that up to $ 300,000 of the $ 450,000 you raised from Indonesian gardener Arief Wiriandinata was sent from Jakarta after he returned home. Did that $ 300,000 arrive at the DNC in an envelope with a 32-cent stamp, in a DHL overseas package, or via diplomatic pouch? What steps are you taking to find Mr. Wiriandinata and return his illegal contributions?
2. You arranged a fundraiser at a Buddhist temple at which contributions were illegally laundered through parishioners who had taken vows of poverty.
Whose money was being laundered at that fundraiser? Who withdrew the $ 5,000 contributions in small bills and distributed them to parishioners? Did you kmow that the actions taking place at that fundraiser could lead to criminal charges against its organizer?
3. You were the top U.S. executive for the Indonesian Riady syndicate -- and you received an $ 800,000 severance package -- before Bill Clinton appointed you Deputy Assistant Commerce Secretary in charge of international economic policy.
As a former agent of the Riadys, were you allowed to have Top Secret security clearance? What did the Riady's $ 800,000 severance package buy? Did you have any contacts -- by phone or in-person -- with the Riadys or representatives of the Lippo Group while you held that position? Do you agree that your appointment to a top U.S. trade position raised grave questions about foreign influence on U.S. trade policy?
4. How much of the $ 4-5 million you raised for the DNC came from: foreign nationals living in the United States, foreign nationals living outside the U.S., green card holders, and subsidiaries of foreign companies? Can you provide a detailed accounting of all contributions from these sources?
5. According to press reports, the South Korean executive -- now missing -- who made the illegal $ 250,000 contribution to the DNC first demanded and received a meeting with President Clinton. In addition to that meeting, how many other meetings with Bill Clinton or top administration officials did you arrange for foreign nationals? How much did a contributor have to give to meet the President? How much did it cost to meet Clinton's top advisors?
-- Scott Reed
Campaign Manager
PARTIAL TRANSCRIPT: CBS'S "FACE THE NATION"
OCTOBER 20, 1996
RON BROWNSTEIN OF TIM LOS ANGELES TIMES AND DNC CHAIR CHRIS DODD
Brownstein: : "You said that John Huang is still on the payroll. Whether you have an FEC investigation or a special prosecutor, any of those will extend well beyond the election. If he is on your payroll, why do you not demand that he make himself available to the press and the public to answer these questions before they vote next month?"
Dodd: : "That could ... that could be done, Ron."
Brownstein: : " "Could be done or will be done?"
Dodd: : "My point is this: look I ... we're down to here with two weeks to go obviously a desperate campaign on the other side raising these issues. I don't recall the Republicans, when Mr. Fireman was in trouble here, suggesting an independent counsel. There you had someone admit guilt that they had done that. So you've got to apply some equal standards."
Brownstein: : "Are you saying, though, that as Chairman Democratic National Committee, you will compel and order Mr. Huang to make himself available to the press? Before the election to answer the specific questions about this fundraising? Yes or no?
Dodd: "We'll try to make him available to you, and my point is here is that no one has suggested that anyone has done anything wrong here. Looking at the issue, this is a vastly different situation, and if you're going to be accusing people, as the other side has of illegalities and improprieties, then they ought to take a look at their own house."
Robert Dole, Press Release - Dodd Says Huang to Answer Media Inquiries Online by Gerhard Peters and John T. Woolley, The American Presidency Project https://www.presidency.ucsb.edu/node/315768