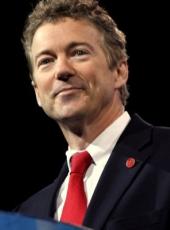 Press Release - Debate Criteria
WASHINGTON, D.C.- Prior to CNN's Republican Presidential debate announcement, Rand Paul for President has had discussions with the RNC and CNN in which the campaign indicated that Rand Paul should be on the main stage on Tuesday. Our campaign asserts that fairness in dealing with polling variances, which previously allowed for amended rules for Carly Fiorina for CNN's August Republican Presidential debate, would indicate Rand Paul should be on the main stage during Tuesday's debate. Some of the points include:
1. Polling criteria has been amended in the previous CNN debate in a similar manner to what we are urging be done today.In August, polls were all over the place. Older polls had one result, while newer ones had another. Even in contemporaneous polls, there were different people ahead and behind. Thus it was determined that additional time periods and criteria were warranted for fairness. We ask for the same process today.
A. In addition to the previously announced criteria, if a candidate qualified via the polling between the last debate and this debate, they are on the main stage.B. In addition to the previously announced and above criteria, if a candidate is above other main stage participants in multiple polls, they are on the main stage. Senator Paul is in the TOP FIVE in multiple polls, including the newest New York Times national poll.
2. Senator Paul has a national, first-tier campaign, organized in all 50 states. He is on the ballot everywhere that has had filing. He has over 400 fully operational grassroots groups, and his campaign and related entities have raised $22 million for this race. It is simply not consistent with facts to attempt to force the campaign off of the main debate stage.3. Rounding up should be applied. Polling margins are simply too wide to allow a quarter or half a point to determine the outcome.
4. The campaign is not asking for special treatment, but simply fairness in criteria, whether it be time frames, allowances for poll variances, or rounding, all of which have been applied to other debates. Senator Paul is eager for Tuesday's CNN debate, and looks forward to his fair and rightful place on the main stage.
Rand Paul, Press Release - Debate Criteria Online by Gerhard Peters and John T. Woolley, The American Presidency Project https://www.presidency.ucsb.edu/node/316942