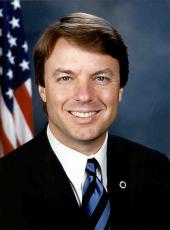 Press Release - On Day Three Of "Fighting For One America" Tour, Edwards Outlines Plan To Reward Work And Help Iowa Families Get Ahead
On Day Three Of "Fighting For One America" Tour, Edwards Outlines Plan To Reward Work And Help Iowa Families Get Ahead
Manly, Osage, Charles City, Waterloo and Waverly, Iowa – On the third day of Senator John Edwards' "Fighting for One America" tour, Edwards outlined his plan to create One America where hard work is rewarded and families can build better lives. Edwards emphasized his agenda to protect and strengthen America's families by raising the minimum wage, reviving the Department of Labor, enforcing workplace safety laws, guaranteeing health care for all Americans and fighting against predatory lenders who keep workers trapped in poverty.
"Washington is broken and our system has been rigged against working people," Edwards said. "Families are falling farther behind, losing their health care and struggling to afford the basics, while the wealthy investors and big corporations use their Washington lobbyists to get every break imaginable. As president, I'll fight for an America that values and rewards work, not just wealth. From raising the minimum wage to strengthening labor standards to passing universal health care, I will make it my priority to help regular families get ahead."
As part of his plan to create One America where hard work is rewarded and families can get ahead, Edwards will:
Raise the Minimum Wage to $9.50 an Hour: Under Gov. Culver, Iowa has been a leader in raising the minimum wage. But even at the 2008 level of $7.25, the earnings of a single parent with two children will still be $2,000 below the federal poverty line. Edwards will set a national goal of a minimum wage that equals half the average wage. He will raise the minimum wage by 75 cents a year until it reaches $9.50 in 2012. He will also restore the minimum wage for tipped workers to half the full minimum wage – the minimum wage for these workers has stood at $2.13 since 1997 – and extend wage and hour protections to home health care workers
Protect Workers' Rights: As president, Edwards will revive the Department of Labor to protect the rights of all workers by working to reverse Bush Administration decisions that have excluded millions from the right to overtime pay. Edwards will also beef up OSHA enforcement and strengthen protections for workers who report injuries or unsafe conditions.
Guarantee Universal Health Care: More than 250,000 Iowans don't have health insurance and one in four Americans with health insurance are underinsured. Guaranteeing quality affordable health care for every American is the most important thing we can do to strengthen the middle class and working class in this country. Edwards has a true universal health care plan that offers every American the option of a public plan and will save the average family $2,000 to 2,500 a year. Employers will have to help cover their employees, the government will make insurance affordable with new reforms and subsidies, and all Americans will buy insurance.
Fight Predatory Lenders and Help Families Save: In the first half of 2007, the number of properties in Iowa being foreclosed on more than doubled compared to 2006. Edwards will crack down on abusive credit card companies, predatory mortgage lenders, and payday loan shops that take advantage of working families. To help families save, he will provide matched savings accounts for low-wage workers.
A detailed fact sheet outlining Edwards' plan for Rewarding Work and Helping Families Get Ahead is attached.
The Edwards campaign has launched a blog on its Iowa webpage featuring updates, photos, and video about the seven-day "Fighting for One America" bus tour. To follow along with the trip, Iowans are invited visit JohnEdwards.com/Iowa.
---
Rewarding Work And Helping Families Get Ahead
"I believe we cannot go on as Two Americas—one favored, the other forgotten—if we plan to stay productive, competitive and secure. I want to live in an America where we value work as well as wealth. I know that together we can build One America – a place where everyone has a fair shot at the American Dream." – John Edwards
With Washington dominated by powerful special interests, it is no coincidence that the benefits of economic growth are enjoyed by increasingly few individuals. Over the last 20 years, American incomes have grown apart: 40 percent of the income growth in the 1980s and 1990s went the top 1 percent. Between 2001 and 2005, the top 1 percent of households gained $268 billion of total income and the bottom 90 percent lost $272 billion ($2,071 per household). [EPI, 2006; Saez, 2007; EPI, 2007]
Today on his Fighting for One America bus tour through Iowa, John Edwards outlined his agenda to create One America where everyone's hard work is rewarded and families can build a better life.
Raise the Minimum Wage to $9.50 an Hour: Under Gov. Culver, Iowa has been a leader in raising the minimum wage. But even at its 2008 level of $7.25, the earnings of a single parent with two children will still be $2,000 below the federal poverty line. Edwards will set a national goal of a minimum wage that equals half the average wage. He will raise the minimum wage by 75 cents a year until it reaches $9.50 in 2012. He will also restore the minimum wage for tipped workers to half the full minimum wage – the minimum wage for these workers has stood at $2.13 since 1997 – and extend wage and hour protections to home health care workers. [HHS, 2007]
Strengthen Workers' Right to Organize: Edwards believes that unions are essential to building the future middle class, but union density in Iowa has declined by 17 percent in just the last six years. The right to choose a union is poorly enforced, full of loopholes, and routinely violated by employers. He will enact the Employee Free Choice Act, vigorously enforce labor laws and ban the use of permanent replacements for striking workers. [Census Bureau, 2007]
Protect Workers' Rights: As president, Edwards will revive the Department of Labor to protect the rights of all workers:

Prevailing Wages: Edwards pledges to protect the Davis Bacon Act, which prevents contractors from slashing wages in order to win federal contracts with low-ball bids.
Overtime Pay: Edwards will work to reverse anti-worker NLRB decisions like those that have excluded millions of workers from the right to overtime pay.
Workplace Safety: Edwards will make sure every American worker is protected by federally-approved safety and health standards in the workplace, including new mandatory ergonomics standards. He will also beef up OSHA enforcement and strengthen protections for workers who report injuries or unsafe conditions.
Wage Abuses: Edwards will create a new Labor taskforce to target the industries with the worst abuses of minimum wage and overtime laws. He will also step up enforcement to prevent the misclassification of employees as independent contractors.

Enact Smarter Trade Policies: Iowa has lost more than 17,000 jobs in the last six years due to growing trading deficits with China. Trade deals need to make sense for American workers, not just corporations. Edwards will insist on trade deals that make most Americans better off and that include strong labor and environmental standards, vigorously enforce American workers' rights, and help workers and communities hurt by global competition. [EPI, 2007]
Help Low-Income Families Find Work and Join the Middle Class: 320,000 Iowans live in poverty, and the state's poverty rate is up from 7.8 percent in 2001 to 11.1 percent. Edwards has set a national goal of eliminating poverty within 30 years. He will cut taxes on low-income workers by expanding the earned income tax credit for single workers and reducing its marriage penalty. He will create 1 million Stepping Stone jobs to help people struggling to find jobs gain skills and work experience. He will also expand affordable housing near good jobs, rather than concentrating it in high-poverty neighborhoods far from opportunity. [Iowa Policy Project, 2007]
Guarantee Universal Health Care: More than 250,000 Iowans don't have health insurance and one in four Americans with health insurance are underinsured. Guaranteeing quality affordable health care for every American is the most important thing we can do to strengthen the middle class and working class in this country. Edwards has a true universal health care plan that offers every American the option of a public plan and will save the average family $2,000 to 2,500 a year. Employers will have to help cover their employees, the government will make insurance affordable with new reforms and subsidies, and all Americans will buy insurance. [Census Bureau, 2007; Consumers Union, 2007]
Fight Abusive Debt and Help Families Save: The number of properties being foreclosed on more than doubled in Iowa in the first half of 2007, compared to 2006. Edwards will crack down on abusive credit card companies, predatory mortgage lenders, and payday loan shops that take advantage of working families. To help families save, he will provide matched savings accounts for low-wage workers. [RealtyTrac, 2007]
Make College Affordable for Everyone: A college education has never been more important, but young Iowans who go to college graduate with an average of more than $22,000 in debt – the second highest level in the nation. To help students work their way through college, Edwards will pay one year of public-college tuition, fees, and books for more than 2 million students who take a part-time job. [Project on Student Debt, 2007]
John Edwards, Press Release - On Day Three Of "Fighting For One America" Tour, Edwards Outlines Plan To Reward Work And Help Iowa Families Get Ahead Online by Gerhard Peters and John T. Woolley, The American Presidency Project https://www.presidency.ucsb.edu/node/294058