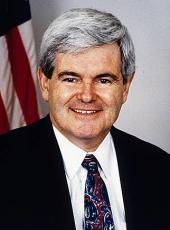 Press Release - Day Six of Newt's Jobs and Growth Bus Tour
Day 6 of Newt's Jobs and Growth bus tour brought him to Ames, Marshalltown, and Waterloo. At each stop, he was met with large and enthusiastic crowds and outlined his bold solutions to create jobs and economic growth.  Here's a recap of the previous five days of Newt's bus tour:
Day Five: Newt stops in Council Bluffs and Atlantic
Day Four: Newt stops in Des Moines, Creston, and Shenandoah
Day Three: Newt stops in Sioux City, Winterset, Storm Lake, Denison and Carroll
Day Two: Newt stops in Mason City, Algona, Spencer, and Le Mars
Day One: Newt stops in Dubuque, Dyersville, and Decorah
In Ames, a massive crowd of over 250 supporters came to see Newt at West Towne Pub.
Throngs of Newt Gingrich supporters and media from around the world converged on West Towne Pub in Ames to get a final look at the presidential candidate before Tuesday's Iowa Caucus.

Jonas Cutler and his daughter, Arianna, 12, from West Des Moines, crowded just inside the door, to shake the candidate's hand.

"We're very excited and glad to be first in the nation," Jonas Cutler said. "We select presidents here."

As Gingrich and his wife, Callista, entered the crowded pub, the couple signed Newt's book and the hat of Jon Hathaway of Des Moines, who told the couple, "My dad really likes you."

Supporters Mike and Sarah Sauer, of Nevada, attended the event with their son, Thomas, 4. Despite a dip in the polls, Mike Sauer said he expected Gingrich to become the next president of the United States.

"He's the only true conservative that will beat Obama," Mike Sauer said.
In Marshalltown, Newt spoke to an overflow crowd at Junction Sports Bar.
Tim Westemeyer, of Vinton, is strongly in Gingrich's corner.

"I'm going to caucus for him Tuesday night," he said firmly.

Westemeyer said he "had participated in politics off and on as an observer to learn facts in two caucuses" a number of years ago.

"This time is different, I'm going to help persuade people to make decisions," he said. "The thing that really irritates me with this campaign is all of the negative stuff on with the super-PACs."

Jasmine Shaikh, of Marshalltown, also strongly supports Gingrich.

She has never been involved in politics previously, she said.

"I love his speeches," she said. I'm very much impressed."
In Waterloo, another large crowd of 250 people came to L.J.'s Neighborhood Bar and Grill to hear Newt's positive solutions to rebuild the America we love.
Many in audience said they had settled on Gingrich as their caucus candidate weeks and even months ago.

Randy Herod, 70, of Waterloo, a former state chair for the Libertarian Party, said he chose Gingrich over Libertarian-friendly Ron Paul because Gingrich has proven he can work with lawmakers.

"He has lots of experience on how to work with Congress ... and he seems to lay down a good solid plan," Herod said. "He seems to me to be the one who's best positioned once in as president to actually get things done assuming we can actually get a Congress that will work with him."

Bob and Lynn Armstrong of Waterloo said their main concerns are government spending, the national debt and taxes.

"He's the only candidate that will balance the federal budget, and he's the smartest guy on the stage," said Bob Armstrong, who caucused for Fred Thompson for years ago.
Newt Gingrich, Press Release - Day Six of Newt's Jobs and Growth Bus Tour Online by Gerhard Peters and John T. Woolley, The American Presidency Project https://www.presidency.ucsb.edu/node/299475