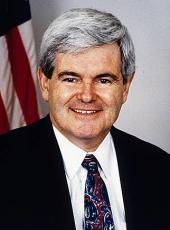 Press Release - Day One of Newt's Jobs and Growth Bus Tour
Newt kicked off his Jobs and Growth bus tour across Iowa yesterday with stops in Dubuque, Dyersville, and Decorah.  At each stop, Newt explained why America needs jobs and growth and how we get there.  Click here for a summary description of Newt's Jobs and Growth Strategy, as well as a catalog of the successful results of Newt's tenure as speaker.
At the National Farm Toy Museum in Dyersville, over 150 Iowans heard about Newt's record of being the only candidate to balance the federal budget.
Newt Gingrich brought out his resume to make the case that he's the only one of the Republican presidential hopefuls with the experience and track record to go toe-to-toe with President Obama next fall.

Gingrich told 150 people at the National Farm Toy Museum in Dyersville Dec. 27 he's running because there is a lack of leadership in Washington.

"I don't think anyone in Washington knows how to make the system work ... at the practical no baloney, how do you get the car started" level, Gingrich said.

He does, Gingrich assured an audience member who interrupted to ask, "Are you that leader?"

Jan Ireland of Marion knows the former speaker comes with baggage, but cares more about his accomplishments - and his ability to get things done.

"He's the only candidate that has experience balancing the budget," Ireland explained. "The others say they will do it, but he's done it, he's been part of it."

He's also "actually passed a major tax cut ... (and) actually twice created a national (Republican) majority," Gingrich said.
Before a crowd of over 200 at the Rotary Club of Dubuque, Newt contrasted his conservative supply-side economic record with Mitt's moderate Massachusetts record of higher taxes and more regulation.
Newt Gingrich took a swing at Mitt Romney this afternoon, telling a crowd here that the former Massachusetts governor's tax plan has higher rates, more regulation and maintains the status quo at the Federal Reserve.

"There is a huge difference between the philosophy of a supply-side conservative in the camp Reagan tradition and the philosophy of a Massachusetts moderate," Gingrich said before a crowd of around 200 people at the Rotary Club of Dubuque.

Gingrich made the statement at his first stop of his new Iowa tour, a 22-event affair known as the "Iowa Jobs and Prosperity Bus Tour" that will end Jan. 3.
In Decorah, nearly 200 people crammed in to Mabe's Pizza to hear Newt's plan to create jobs and economic growth.
A crowd of almost 200 people packed the Mabe's Pizza basement to capacity. Press barely fit; print reporters sat on the floor practically beneath the podium at which Gingrich spoke, while TV cameras and still photographers shoved their way into somewhat acceptable positions to shoot the event.
Newt Gingrich, Press Release - Day One of Newt's Jobs and Growth Bus Tour Online by Gerhard Peters and John T. Woolley, The American Presidency Project https://www.presidency.ucsb.edu/node/298229