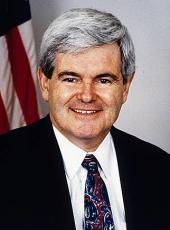 Press Release - Day Four of Newt's Jobs and Growth Bus Tour


Day 4 of Newt's Jobs and Growth bus tour brought him to Des Moines, Creston, and Shenandoah.  At each stop, Newt drew large crowds and outlined his bold solutions to create jobs and maximize economic growth.  Here's a recap of the previous three days of Newt's bus tour:
Day Three: Newt stops in Sioux City, Winterset, Storm Lake, Denison and Carroll
Day Two: Newt stops in Mason City, Algona, Spencer, and Le Mars
Day One: Newt stops in Dubuque, Dyersville, and Decorah
At the Rotary Club in Des Moines, Newt spoke to over 200 people and picked up the endorsement of influential Iowa State Rep. Scott Raecker. Later at Java Joe's in Des Moines, Newt spoke about his mom at a CafeMom event with over 100 Iowa moms.
He went on to discuss how his mother, Kathleen Gingrich, is someone who he remembers "loving life" and "having a sense of joy in her friends." He then talked about how she lived in a long-term care facility toward the end of her life, which led him to emphasize brain science and other issues in his public life.

As he talked about what he called "the real problems of real people in my family," he began crying again. Gingrich's comments prompted enthusiastic applause from the audience. Later, one of his daughters brought him a tissue to wipe his eyes.

Gingrich went on to discuss how his mother spent "27 years as an army wife" as part of a culture that valued patriotism and duty. He said that if his mother were here today he would tell her he would "do everything I can as a candidate to be worthy of ourselves."
Watch video of the whole CafeMom townhall here.
In Shenandoah, Newt talked to a packed crowd at M's Fine Dining and outlined his plan to create jobs and dramatically shrink government.
Newt Gingrich, Press Release - Day Four of Newt's Jobs and Growth Bus Tour Online by Gerhard Peters and John T. Woolley, The American Presidency Project https://www.presidency.ucsb.edu/node/299007